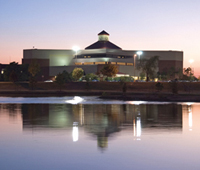 Spring enrollment has begun already, said Mary Ann Bodine, Academic Advising assistant director.
The 16-week spring semester begins Tuesday, Jan. 18, the day after Martin Luther King Day.
Students can enroll online and on the first floor of the Main Building at the advising office.
Bodine said she encourages students to enroll early.
She said with the current economy, OCCC enrollment is at its peak, meaning more students will be vying for classes.
Student Amanda Seifried said she makes it a practice to get at the front of the line.
"I always enroll as soon as I can to make sure that everything fits in my schedule," she said.
Seifried mentioned that in the three semesters of attending OCCC, she has always been able to get into any class she needed.
Business major Ryan George said he normally enrolls closer to December when he realizes the enrollment window is closing.
That affected him this semester when, he said, he had trouble getting the classes he wanted. As a result, he said, he advises others to enroll earlier.
"I had to take two random classes this semester to make sure that I was a full-time student because I waited too long to enroll," George said.
This is a habit George said he intends to break now that he understands the problems that come along with enrolling late.
Although online enrollment is available, Bodine encourages first-year students to come in early to speak with an academic adviser to make sure they understand what classes they should be taking.
First-year student Matthew Brown praised the experience he had with face-to-face academic advising.
"It was more helpful for me to go in and be advised because I had no idea what I was doing online."
Students enrolling online also may be confused about which classes count toward their major, Bodine said. This could result in students taking classes not credited toward their degree.
Making an appointment for academic advisement has its perks, she said.
Advisers will make sure students have all the classes they want for their major, while also making sure they understand what is necessary to obtain their degree.
Bodine said appointments are easy to make by calling 405-682-7535.
Academic advising appointments take about 30 to 45 minutes at the most, she said.
She said appointments will sometimes have to be made two weeks in advance, especially during busy times. It also helps for a student to get there a little bit early, she said.
Posted signs tell students which line to get in for advisement, but those students with an appointment will be able to skip the check-in line.
"If a student has an appointment, they need to go to the second person at the desk and bypass the line," Bodine said.
There are more resources available to students who enroll early in the semester, Bodine said.
She said students who are undecided about their majors also are encouraged to take advantage of the career guidance offered by Career Services employees.
These services will help students figure out what their strong suits are and what major they would be able to excel in, Bodine said.
She recommends contacting Deborah Vaughn, Student Employment and Career Services director.
Vaughn can be reached at 405-682-1611, ext. 7362, or via e-mail at dvaughn@occc.edu.
"[Vaughn] is wonderful and great with the students," Bodine said.
For more information, contact Bodine at 405-682-7535, or e-mail her at mbodine@occc.edu.