Students encouraged to apply for graduation sooner than later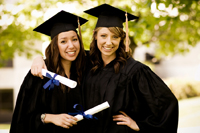 All OCCC students planning to graduate in May are encouraged to turn in applications by Feb. 4, said Barbara Gowdy, Graduation Services director.
While this is not an official deadline, she said, the sooner applications are received, the more time students will have to make sure there are no mistakes and to ensure their names will be included in the commencement program.
Gowdy said once students have applied for graduation, a letter will be sent within a couple of weeks letting students know what, if any, information is still needed.
"We do accept applications until the end of the semester but we encourage people to apply by the deadlines so they get that letter," she said.
Failure to meet deadlines could result in problems, she said.
"If you wait until the last day, you might need a class you didn't know about.
"Sometimes course substitutions have to be done by a faculty adviser or classes from a transfer institution may not be falling in, and we'll have to look into it as equivalent to a class here," Gowdy said.
As an added measure, Gowdy said, students should run a degree check online to make sure they have taken all the classes needed.
Gowdy said once everything is in order, a student will be ready to participate in commencement on Friday, May 13, at the Cox Convention Center.
For more information on records and graduation or to find the online graduation application, visit www.occc.edu/Records/index.html.