Students converge on Capitol, speak with lawmakers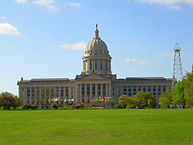 Oklahoma State Capitol
When Oklahoma legislators welcomed college students from across the state to the Capitol on Feb. 10 for Higher Ed Day, OCCC students were prepared.
Political Science Professor Nate Vanden Brook said 15 to 20 students — about half the number of students registered to travel to the Capitol — attended informational seminars prior to that day.
In those sessions, students discussed talking points with which to approach their representatives and methods for communicating their concerns.
Firearms on campus and education funding were expected popular topics, Vanden Brook said.
"The students who were able to contact their representatives had good engagement with [them]," he said.
"They had a positive experience and started a good, positive dialogue with their representatives about the guns and funding issues."
Psychology major Christian Castro said he attended Higher Ed Day to hear legislators talk about the issues that matter to him.
"I wanted to talk to (Sen.) Ralph Shortey about guns on campus," he said. "He's very pro guns on campus."
Castro said he was not pleased with the results.
"It was bad," he said, "Ralph Shortey is a rude man and never kept with his appointments.
"He actively dodged interviews and when I spoke with him in the hall he said that he already knew what he was going to vote for and that he wasn't going to rock the boat."
Not every student who'd prepared themselves for a day with their representatives got the opportunity.
Diversified studies major Derek Scarsella said she attended Higher Ed Day, ready to talk to those in her district.
"One representative was out sick that day and my senator was at lunch but I was able to make appointments to go back next week to actually sit down with them and discuss my concerns," she said.
Scarsella said she plans to discuss newly proposed guns-on-campus legislation with her representatives, as well as concerns about college funding when she meets face-to-face with them.
"As a community college student, I depend on Pell grants," she said. "And if tuition outdoes my Pell grants I'm looking at … loans. [That]doesn't set me up well for my future."
Scarsella said she believes her representatives are accessible and she is excited to bring her concerns to them.
One group of students went to the Capitol for another type of interaction.
Theater major David Chen said he went with his Theatre for Social Change Class to demonstrate that theater can be used for more than entertainment.
"Art is more than just passive," he said."We wanted to see what we can achieve with theater as an art form. Can we influence more? Can we create change?"
Chen said the theater group presented several exercises they perform in class to test the reactions of those around them.
"There's some things that people don't want to talk about or are very difficult to talk about," Chen said. "If we stage those situations, then we can get people to talk and that's the beginning of change."
Chen said he did not get the opportunity to meet with his representatives but he enjoyed his day at the Capitol and left with some sense of accomplishment.
"Art matters, obviously."
Other students traveled to the Capitol strictly for a special session held in the House chamber where guest speakers addressed students and legislators.
Former Lockheed Martin CEO Norm Augustine was the keynote speaker.
In his speech, Augustine addressed Oklahoma lawmakers, urging a deeper consideration of the ramifications of poor school funding upon world competitiveness.
"It's not a formula for success," Augustine said.
Vanden Brook said he appreciated the message.
"I thought that the keynote speaker did a fantastic job … and everyone else did a great job of addressing the students."
Political science major Monica Gordon said political science Professor Sharon Vaughan encouraged her to attend. Gordon said she wanted to learn more about why legislators want to cut the school budget and their reasoning for wanting to allow guns on college campuses.
"Really, I want to hear where their [heads are]," she said.
Vanden Brook said he encourages students to get in touch with their representatives and begin dialogues.
"Don't email them," he said. "Emails can be deleted."
He advised students to write letters and visit them at their offices.
Scarsella agrees.
"Anybody, at any time, can look up their representative or senator and go see them at the Capitol.
"They work for you."
To contact Jorge Krzyzaniak, email seniorwriter@occc.edu