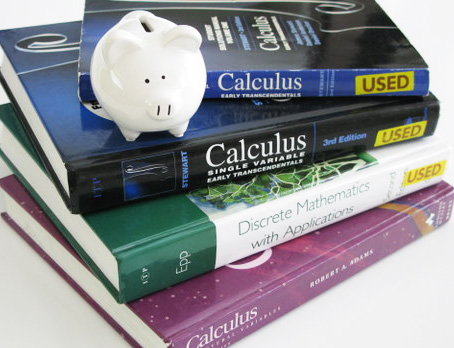 While the average college textbook only weighs five pounds, the cost seems to be the real load. The average college student spends $1,200 on books and supplies each year, according to bigfuture.collegeboard.org.
Students can try to recoup some of that money by selling their books back to local or online bookstores.
The OCCC Bookstore will have textbook buyback from 8 a.m. until 8 p.m. on Dec. 8, from 8 a.m. until 6 p.m. on Dec. 9 through Dec. 11, from 8 a.m. until 5 p.m. Dec. 12, from 9 a.m. until noon Dec. 13, and from 8 a.m. until 5 p.m. Dec. 15.
Bookstore employees were not available for an interview.
According to the bookstore website, limited quantities of clean, current edition textbooks will be purchased. Old editions, unclean books, books with software licenses or online access codes and learning packets will not be bought.
For more information, visit their website at bookstore.occc.edu/buyback.asp or call 405-682-7510.
In addition, there are a number of area stores that purchase textbooks.
Textbook Brokers, located at 7445 S May Ave., buys books year round, said Manager Brice Varbel.
Varbel said Textbook Brokers buys all types of books as well as access codes.
"The list is pretty extensive," he said. "We try to buy everything back from books that go in binders to workbooks to access codes they didn't use."
He said his store also buys outdated textbooks.
" … We can still buy them, because we have other stores throughout the country we can send them to.
"So it may not be as much, but we can still give something for it. There might be a need at one of our other stores."
Varbel said Textbook Brokers wants to pay students as much as possible for their books.
"We try to be as competitive as possible and we'll certainly try to beat other competitors' prices when we can," he said.
For more information about Textbook Brokers, visit http://textbookbrokers.com.
Half Price Books, located at 1449 W Interstate 240 Service Rd., also purchases textbooks and all other types of books from students.
The store buys anything that's professionally printed or recorded, said Manager Kristin Rush. However, she said, they can offer higher prices for ones they can sell to other customers.
Rush said even if the textbooks aren't currently being used in the area, they will still buy them.
"If it is a current textbook that's still being used, even if it's not being used here, if it's being used somewhere else, we can sell it online … ," she said.
While Half Price Books may not pay as much as the bookstores that specialize only in textbooks, Rush said, they will buy almost any book.
"Once a textbook is out of date, we're still going to buy it," she said. "We might not pay as much for it, but we'll always buy it. We try to be as competitive as possible.
"We're always a good idea. We do have a really wide selection of textbooks, not just in the store, but also on our website."
For more information about Half Price Books, visit www.hpb.com.
Students also always have the option of selling their books online.
Websites such as www.buybacktextbooks.com, www.amazon.com, www.textbookrush.com, www.cash4books.net, www.chegg.com, and www.barnesandnoble.com/textbookbuyback all purchase used textbooks.