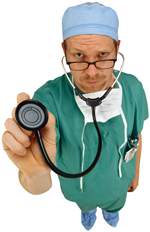 Among the many hot topics in politics over the years, and one that has garnered much attention, is healthcare.
With President Barack Obama's initiative to reform the healthcare policy in America, many are wondering how it might affect them, if at all.
Starting in 2014, all residents of the United States must purchase health insurance or face a penalty of $695 annually according to cbsnews.com.
Although there will be exceptions for certain low-income people, those without the ability to pay for insurance will be pressed to develop a plan in the coming years.
This reason, along with many others, is why OCCC is encouraging all students to find out information regarding their healthcare plans for the future as well as the present.
Mary Turner, Learning Support Specialist, said it's key for the college to provide as much information as possible.
"We want to help students find resources so that they can be healthy," said Turner.
"A healthy student tends to be a more successful student, and that's what is most important."
Student Support Services, located on the first floor of the Main Building, provides helpful information for students inquiring about all things health insurance-related.
Brochures and pamphlets can be found in the Student Support Services office, Turner said.
The brochures include different health insurance plans geared specifically toward college students.
Among the providers found in Student Support Services are Assurant Health, Sentry Insurance, and Insure Oklahoma.
More information and other providers can be found on the OCCC website.
Kenneth Meador, College Democrats president, said the effort exerted by the college to provide information is a valiant one.
"I do think the informational opportunities that OCCC provides are a great way for the students to find out their options and make an informed decision about their healthcare needs," Meador said.
"The most important thing for a student to do is to get all possible information before making this huge decision that has such large implications."
However, for those who believe acquiring insurance is not a realistic possibility, the school also offers information for local health clinics that are free or sliding-scale based.
Jamerye Paulin, a student at OCCC, contends these health clinics are as important as insurance as a whole.
"In these economic times especially, a lot of students don't have insurance, so a low cost or free clinic is in high demand when the unexpected happens," he said.
And because the unexpected should be expected, Turner puts an emphasis on healthcare coverage.
"We never know what the future may hold, which is the point of insurance," she said.
"In case something happens, you'll be covered with insurance, so it's really important to have some sort of healthcare coverage."
For more information about healthcare coverage possibilities, visit the OCCC website at www.occc.edu or contact Student Support Services at 405-682-7520.