Student work spotlight of Humanities Fest theater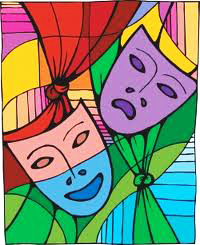 OCCC's theater season will open with Humanities Fest, taking a fresh approach to theater by emphasizing student performances of student writing. The show will be at 7:30 p.m. Thursday, Oct. 10, in the Bruce Owen Theater with theater Professor Brent Noel directing.
Students will interpret selections from OCCC's own literary magazine, The Absolute.
The show also will incorporate other areas of humanities including music written by students in the music department, Noel said.
Noel will not be alone in directing this production.
Noel said Jamie Smith, a theater arts major in her final year, will assist him as part of her theater practicum.
Smith expressed her enthusiasm for the project.
"I'm just really excited to be a part of bringing other students' work to life," Smith said.
"We have a really good group of actors that are in their first year to final year so it's a depth of talent."
Theater student Tiffane Shorter is one of the performers.
Shorter is not only interpreting the works in The Absolute, by acting, but she's the author of one of the works being interpreted, a short story called "Seeing Red (And Wishing to Paint the Town)."
"It really does feel awesome," Shorter said. "I'm trying to maintain a modest level of ego about it."
For Shorter, acting is an escape out of her shell, while writing helps her create a beautiful world, she said.
"I was really shy and introverted growing up," Shorter said.
"Acting really helped me branch out and find my own voice in a crowd. I liked that."
Admission to Humanities Fest is free. There will be only one performance, Noel said.
"Seeing the show is a great way to support students and their creativity," Noel said.
The next show in the 2013- 2014 OCCC theater season will be the dark comedy "How I Learned to Drive" by Paula Vogel, also to be directed by Noel.
The play will be performed Nov. 21 through 23.
For more information , email Noel at bnoel@occc.edu.