Student Thunder tickets on sale for $10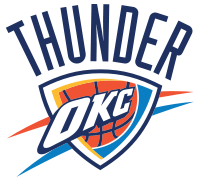 Students, faculty and staff at OCCC will have an opportunity to buy discounted Thunder tickets for the 7:30 p.m. Thunder vs. Hornets game on Wednesday, Feb. 27.
"It is a way to promote community within the campus," said Student Life Assistant Marcy Roll.
There are a total of 93 tickets available, which can be paid for by cash or check. No credit cards will be accepted. The $10 student tickets will be open for purchase beginning at 8 a.m., Monday, Feb. 18, in the Student Life Office. Faculty and staff tickets will go on sale the following day Tuesday, Feb. 19 for $25 per ticket.
Students are excited about the opportunity to buy inexpensive tickets.
"I think it makes it seem like the college cares about the students by giving them a discounted price that they can't get anywhere else," Computer Science major Crystal Witt said. "I would buy two or three so my friends can go too."
Undecided major Lindsay Hill said she plans on buying as many tickets as possible.
"I think that is pretty amazing. I will buy the max that I can," Hill said. There is a five ticket limit for each student, Roll said.
The last time the Thunder played the New Orleans Hornets Dec. of 2012, they won 92 to 88.
Many students said they would go to the game the 27.
"Yeah, I would go," said Nursing Major Nyche Franklin, "Discounted tickets are good."
Other students won't be able to attend due to classes. OU student Jamie Steichen, who is also taking classes at OCCC, said he would not be able to attend.
"I would go if my schedule would allow it, but I have a test that night," Steichen said.
For more information about Thunder vs. Hornets tickets, contact Student Life at 405-682-7523, by email at studentlife@occc.edu or stop by Student Life, located on the first floor of the Main Building near the coffee shop.