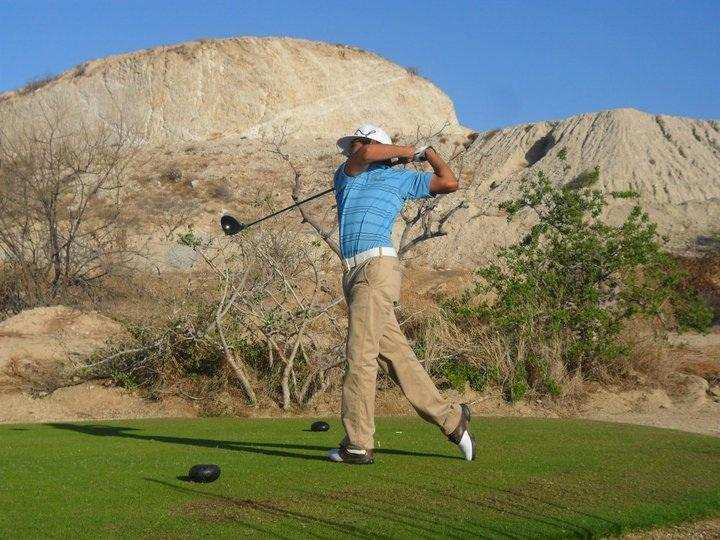 Alberto Nava and his golf coach Steve Dodson have a special relationship on and off the golf course. Nava credits Dodson for making him the successful golfer he is today. Nava recently finished in the top 10 in a Mexican national golf tournament.
"He has helped me in so many ways, in my golf game and in my life and my family. He basically made me the golf player that I am today. I consider him as my grandpa," Nava said.
Born in Los Cabos, Mexico located near the Pacific Ocean, Nava said he made the move to Oklahoma recently to pursue his education and to get better at his game.
Nava has had a close relationship with Dodson for the majority of his life, he said. Dodson moved to Los Cabos and didn't  speak any spanish, so Nava's mother helped Dodson and his family adjust to the new area. Nava said they have worked together ever since, which is what began the relationship that would bring the two even closer.
Nava and his older sister Ana, who attends the University of Oklahoma, now live with Dodson here in Oklahoma.
Nava is no stranger to Oklahoma seeing how he has participated in the Oklahoma State University golf camp for two years. Nava said he appreciates the wisdom that was passed on to him about golf.
"I learned many things at OSU golf camp," Nava said.
"Golf coach Mike McGraw is a great coach and great person that cares about the people around him. I spoke with him many times and he has told me many things about golf that really helped me when I got back home after the golf camp," Nava said.
"I also learned that you have to practice all day to achieve what you really want, not to give up because if you give up you will never achieve what you want. If something doesn't work the first time do it again and again and again til they do.
"I learned many exercises and techniques, and most important of all to have fun when you are playing, keep your head up, enjoy the beautiful day that God gave you, and every minute of it."
Nava said his biggest influences, as far as professionals golfers, are Tiger Woods, Camilo Villegas and Lee Westwood.
Nava said he credits Dodson for making his dream of being a PGA star more and more possible each and every day.
"Steve Dodson, he is a golf professional. When he moved to Los Cabos, Mexico, he was the director of golf and the golf pro at Cabo San Lucas Country Club. He is, in my opinion and a lot of peoples opinions one of the best golf coaches in Mexico, and a lot of people know him and respect him because of the great person he is."
Nava has high hopes for his future, but said no matter what he ends up doing, he wants it to involve the game he fell in love with as a child.
" I would like to have a chance to play professional golf. Thats my dream and I think that with this program I'll have a better chance,
"But if that doesn't work, I would like to manage a golf course and make each and every golf course that I manage the most or one of the most successful in Mexico or USA.
"I also would like to teach golf, look for talented young players and help them to succeed," Nava said.
Nava said he currently attends regular classes at OCCC, but said he plans on transferring to the University of Central Oklahoma, because of its distinguished PGA Golf Management degree program.
To contact Brandon Willis, email sportswriter@occc.edu.