Student leaders vote 25-1 against guns on campus issue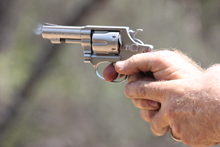 A resolution against guns on campus passed by a vote of 25 to 1 in The (Student) Leadership Council meeting on campus Jan. 29. The lone vote against the resolution was cast by the representative of the Engineering Club.
The representative of the Christ Campus Fellowship club abstained.
The representatives of 27 campus clubs that attended the meeting were asked to vote on behalf of the entire student body.
The following is a portion of the motion TLC members approved:
"THEREFORE, LET IT BE RESOLVED, that The Leadership Council of Oklahoma City Community College, on behalf of the student body of Oklahoma City Community College, strongly opposes any legislation, regulations, or policies that would allow guns on campus by non-law enforcement personnel."
The resolution itself talked about the many shootings and attacks that have occurred specifically on college and even high school campuses. One of the many solutions that have come up in response to this national problem is the idea to allow concealed and non-concealed weapons on campus by licensed citizens.
Several bills have been introduced in the Oklahoma Legislature this session to allow licensed, non-law-enforcement individuals to carry weapons on college campuses.
More guns are not the answer, according to the resolution.
Marion Paden, vice president for Enrollment and Student Services, commented that college administrators oppose legislation that would permit concealed, or openly carried, weapons.
"We firmly believe that there is no reasonable situation that would ever warrant the provision of guns, concealed or non-concealed, to anyone other than law enforcement," Paden said.
The language of the resolution argues that no research or physical evidence exists showing that implementing laws allowing guns on campus would at all make college campuses safer.
Before the final vote, one club representative asked: "Was the information about this meeting and the voting of the resolution available to the entirety of the student body?"
The questioner wanted to ensure that the few weren't deciding the future for roughly 15,000 other OCCC students without other students being aware that TLC members would be voting on their behalf.
Student Life Director Erin Logan answered that the meeting agenda had been posted for everyone to see and that the resolution had been available for viewing since the fall semester.
Also there was an online article in the Pioneer, saying the issue would be voted on that day.
For more information, contact Paden at 405-682-7595 or mpaden@occc.edu.
To contact Christopher Plunkett, email onlineeditor@occc.edu