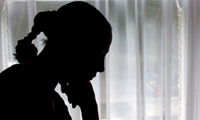 During The Leadership Council meeting Sept. 30, TLC members acted out scenarios which showed verbal abuse, domestic abuse and other dangerous relationships in order to provide a preview of what will be covered during special activities on campus Oct. 11 through 15.
The intent was to give the student leaders a preview of the events planned for Relationship Violence Awareness Week, said Jenna Howard, OCCC counselor.
Activities will include self defense training, relationship violence awareness training, guest speakers and a silent memorial for those who have died from domestic violence.
"It takes about seven [attempts] for someone to leave a domestic violence relationship," Howard said in the meeting.
She said, with the bad state of the economy, domestic violence has risen.
"If we can help people get help, that would be great," Howard said.
Student Relations Director and TLC sponsor Erin Logan said Howard is great at counseling students.
Logan said the college's Crisis Response and Intervention Team, Student Support Services, and Student Life offer free services on campus to assist students in abusive relationships or who have witnessed abusive behavior.
"I think it's good for students to know we're here to help them," Logan said.  "We're not just here for class."
TLC is made up of officers of campus clubs and other interested students who want to volunteer. The group usually meets twice a month on Thursdays at 12:30 p.m.
Kenneth Meador, College Democrats president and a TLC member, said he's just now aware of the free counseling at OCCC.
"I've been here for a semester and a half and I had no idea those services were available."
During Relationship Violence Awareness Week, boxes will be available on campus for donations to the YWCA women's shelter in Oklahoma City. Some items needed are arts and craft supplies for children, diapers, baby wipes, learning-based toys, telephone calling cards for women, pots, pans, baking dishes, umbrellas, toiletries and hand sanitizer.
For more information about The Leadership Council, contact Logan at 405-682-1611, ext. 7821 or by e-mail at elogan@occc.edu.