Student finds Oklahoma much like home of Macedonia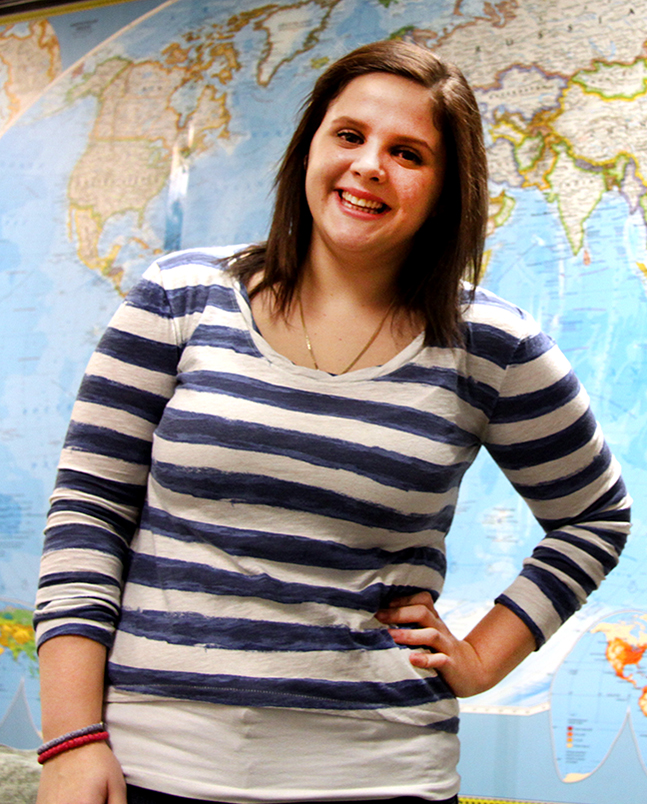 International student and nursing major Julijana Bozhinovska, a native of Macedonia, said she chose to study at OCCC because it reminds her of her family life at home in a landlocked European country north of Greece.
Bozhinovska said she has been in the U.S. for three years.
"I was [in Oklahoma] my senior year of high school as an exchange student," she said. "… The agency I was with gave me a [choice] between Oklahoma and California."
Rather than studying on the sunny West Coast, Bozhinvoska said, she chose Oklahoma because the family she'd live with here was a full house with four children.
"I grew up with kids," Bozhinvoska said. "I have a sibling and little cousins and everything so I like kids.
"I picked Oklahoma because of the family."
Bozhinvoska said she's lived with the same American family in Mustang for as long as she's been in the country.
She said while in the U.S, she's visited Oklahoma, Texas, Colorado, New York and Ohio — but Oklahoma is her favorite. She said the American lifestyle is entirely different from her home overseas.
"We don't really have the big highways, big streets, huge malls — we recently started building malls [in Macedonia]," she said.
Bozhinvoska said Macedonia functions under a similar multi-party government system like the U.S.
She said the country's native language is Macedonian, a language similar to Bulgarian and Serbian.
Bozhinvoska said she is from Prilep, the fourth-largest city in Macedonia which has a population of 66,246.
However, she said Prilep dwarfed in comparison to many American cities such as Oklahoma City.
Bozhinvoska said the education system in Macedonia is similar to the U.S. in many ways but differs in one.
After Macedonian students attend junior high, they can choose to attend high schools that are specific to their career interest, such as medical or police work.
Bozhinvoska said she has visited Macedonia once since moving to America and hopes to go back again this summer.
"It gets hard — like, I get homesick and I miss my family and friends, but I've made my own little life here [in Oklahoma].
"I think that's what makes me like Oklahoma the most — the people here," Bozhinvoska said.
"And my family [here] is pretty awesome."
To contact Siali Siaosi, email seniorwriter@occc.edu.