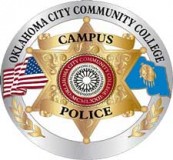 Two students recently had encounters of the suspicious kind — one involving a gun, according to OCCC police reports.
Student Donovan Scott, 24, reported one such encounter he had at around 8 p.m. Oct. 6.
Scott told campus police when he arrived at his car in parking lot A, a dark gray Chevy four-door was parked next to it with the ignition running. Scott said after he got in his car, the driver of the other car sped off.
Scott said when he left, he happened to be going the same way as the other vehicle.
As the two cars approached a red traffic light at May Avenue, Scott said, the other driver began repeatedly tapping his brakes.
Scott reported that it seemed the man was trying to cause Scott to rear-end him.
Scott told police he had had enough of the erractic behavior so he got out of his car and approached the man's car from the driver's side.
He said that was when he noticed the man had a small caliber pistol drawn across his chest in a downward position, according to the report.
Scott said the man also was visibly shaking. The man then said in a loud voice, "I'm just trying to defend myself."
Scott said he walked back to his car after exchanging profanities with the driver, who then sped off.
Police said the case is still active.
A case of aberrant behavior was reported to campus police around 3 p.m. Oct. 2 by student Danielle Bourgeois.
Bourgeois said she was in the Engineering Lab when she noticed a man, 28, whose name has been redacted from reports, asking a student outside of the lab if that was a place he could get engineering help. The man was told yes and was asked if he needed help.
Bourgeois said he responded no, that he was just wondering, and then, left. Then, Bourgeois said, he came back and approached her when she was the only student in the lab.
She reported that he introduced himself to her, then, took her homework from her. She said he took her papers to another table and began working on them.
She said she asked him if he was an OCCC student and he replied no.
Once he completed the papers, he came back to Bourgeois' table and picked up her physics book, looking through it.
He told her he had left his physics book in his car.
Bourgeois said the man then left but returned around 12:30 p.m. She said he handed her a paper with a solved homework problem on it.
The man had handwritten his phone number on the paper, along with "nice to meet you. Let me know if there is any more fun to be had!"
Bourgeois told campus police the man made her feel uncomfortable.
She filled out a witness statement form. The case is pending further investigation.
Some information was redacted from the reports under the direction of Marketing and Public Relations Director Cordell Jordan who said names are redacted "according to OCCCPD Standard Operating Procedures involving information released and information withheld."
To obtain a copy of the procedure, email cjordan@occc.edu.
To contact campus police, call 405-682-1611, ext. 7747.
For an emergency, use one of the call boxes located inside and outside on campus or call 405-682-7872.