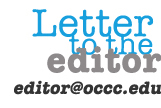 I recently joined the Advocates of Peace club. I was excited to not only get volunteer and leadership experience, but also to build my academic portfolio.
I arrived early at my first meeting to get a good seat (like any good student would). I assumed with the population of our school, if even a fraction of the student body showed up, I would want to get there early.
I was sorely disappointed to see only 10 people there. Why are so few people not active in club or volunteer life at OCCC? I posed this question to a few professors and students. Each time I got a similar response. OCCC is a commuter school. Students are too busy coming and going to invest time outside of class.
I feel that what some of my fellow students fail to recognize is the opportunities civic and service clubs have to offer.
To a potential employer, leadership and volunteer activities look very good on a résumé. It shows that not only do you have the smarts to perform the job, but also the social skills to be successful.
Many students plan to transfer to a four-year university. Possessing these skills gives you a significant edge in the scholarship and application process.
At the core of all civic and volunteer work is a drive to help the greater good. It's about giving back to the community that has given to you. It is about recognizing the humanity in all people and embracing it. It is about becoming active and finding your voice.
I encourage each of you to join a student organization. Get involved and help inspire others. It is beneficial not just for personal and emotional growth, but for professional development.