Student award ceremony set for April 20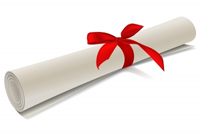 digitalart/
FreeDigitalPhotos.net
The 36th annual Student Awards Ceremony will take place at 6 p.m. Friday, April 20, at in the General Dining Area of OCCC, said Student Life Assistant Marcy Roll.
Roll said several students and teachers would be honored at the ceremony for leadership, academic excellence, and civics.
Student Life Director Erin Logan said about 120 students will be honored.
"The awards are plaques, medals, certificates, and graduation cords, depending on the award," Logan said.
Faculty, staff, students, and their families are all invited to attend the ceremony, Roll said. She said different faculty and staff will present the awards.
OCCC hosts the awards ceremony for students "to recognize student achievements," Roll said. She said the ceremony will last about an hour, followed by a reception.
Logan said she looks forward to the ceremony. "We're excited to be part of a wonderful event that highlights the diversity, creativity, and excellence of OCCC's student population."
To contact Mary McAtee, email staffwriter2@occc.edu.