Student asks voters to be informed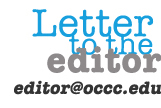 To the Editor:
State Sen. Ralph Shortey, the Senator from Senate District 44 that OCCC falls into, has a few bills on the floor of the state Legislature that may raise some eyebrows this session.
One of those bills calls for the removal of the power of judicial review from the state Supreme Court.
For a little refresher civics lesson, the power of judicial review lets our Supreme Court review laws passed by the Legislature and make sure that they do not violate the Oklahoma State Constitution.
They ensure that all citizens of the state are represented equally under the law and according to the state constitution. The power of judicial review is a check on the state legislature just as much as the governor's veto power is.
Needless to say, or at least I thought it was, until I read Senate Joint Resolution 84.
The power of judicial review protects all the citizens of Oklahoma from all unconstitutional laws.
Of course, if someone wanted to pass laws that disenfranchise people and blatantly violate our constitution, they might first try to pass a law that ensures no one will be checking to make sure they are acting in their proper capacity as a representative of ALL citizens.
Remember this in November during election years.
You and I are paying Sen. Shortey's salary so he can be the laughingstock of anyone and everyone who has a basic understanding of the constitution.
—Kenneth Meador
OCCC Student