Stressors may remain from last year's severe storms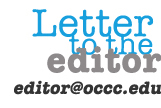 To the Editor:
Spring 2015 brought storms, flooding, hail and severe weather. Violent weather destroys property, disrupts communities and leave victims with an uneasy sense of safety and well-being.
The emotional effects of loss may appear weeks or months later.
With warm, spring weather approaching, some students may be experiencing predictable reactions to trauma triggers.
Ensuring your emotional well-being is just as important as typical emergency preparedness.
Understanding predictable reactions to trauma and disaster, and learning simple strategies to respond to stress signals is vital to helping individuals and families cope.
Typical signs of stress include difficulty sleeping, nightmares, lethargy, difficulty concentrating, sadness, excessive drinking or drug use, anxiety, incapacitating guilt and self-doubt, sudden painful emotions, feeling numb or withdrawing from others.
Empower Oklahoma is a continuation of Oklahoma Strong and will be in the Main Building of OCCC Feb. 22, Feb. 29 and March 7 to assist individuals and communities in recovering from the challenging effects of the Spring 2015 storms through community-based outreach and psycho-educational services. If you, or someone you know, is experiencing stress or other negative effects of the Spring 2015 storms, please stop by our table.
Empower Oklahoma team members can be identified by their lime green T-shirts and Hope Community Services employee badge.
We are assisting students by providing emotional support, strengthening connections to familial and community support systems and linking survivors to community resources and disaster relief services through the Crisis Counseling Assistance and Training Program (CCP).
We hope to see you there!