Stoops Retires As OU Head Coach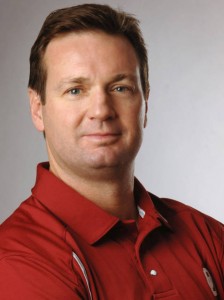 University of Oklahoma football coach Bob Stoops confirmed Wednesday that he is retiring as OU's head football coach.
Stoops has had an extremely successful run as a coach, winning ten Big 12 titles and one national championship.
Stoops said that although he knew there was speculation on his health being a factor, it was not an issue.
"I feel the timing is perfect to hand over the reigns," he said in a prepared statement.
Stoops said he wants to reassure people that although he is leaving, the program will still succeed. "The program is in tremendous shape. We have outstanding players and coaches and are poised to make another run at a Big 12 and national championship," he said.
Stoops received the Walter Camp Coach of the Year award twice, and is leaving the school with an win-loss record of 190-48 and a .798 career-winning percentage.
Bob Stoops expressed his gratitude to all those who supported him, especially his family.
"Lastly, I'd like to thank my wife, Carol, and my daughter, Mackie, and my sons, Drake and Isaac. They have been a major part of my success. Being the wife or child of a coach is often tough, and they've all been strong through both good times and challenging times."