Still B.I.G.
The greatest rapper of all time died on March 9th.
Canibus said this on his vicious diss track to LL Cool J on, "Second Round K.O.," and twenty years later, it's still up for debate. Hypotheticals plague The Notorious B.I.G.'s legacy. He was murdered in Los Angeles before his second album, "Life After Death," was released.
Born Christopher Wallace, Biggie's legacy, as it stands twenty years after his death, is that of a legendary emcee who could use his signature flow to stand out on any track. As much as he lent his persona perfectly to R&B tracks like 112's "Only You," he made you clinch your belongings with his rough delivery on tracks like "Gimme the Loot" and "Kick In The Door." He was an incredible storyteller that hip-hop had never seen prior, and very rarely have we had glimpses of since.
Would the success from slower tracks such as "One More Chance (Remix)" turn him into the rapping ladies' man LL Cool J was becoming?
The Music Snobs feel he would have turned into Big Daddy Kane with his influence on slow tracks on his album "Taste of Chocolate." Would JAY Z have had a chance to claim the title of King of New York after Biggie's death or would they have switched off throughout the years like they passed verses on "Brooklyn's Finest"? No one knows.
The way it stands today, JAY Z grabbed the torch passed by Biggie to become the biggest rapper of all time (next to Eminem), Diddy became the larger-than-life businessman, and Biggie paved the way for commercial rap – for better or worse.
Nothing was the same in hip-hop after his first album "Ready to Die," with the inevitable changes on the horizon described on the intro track "Things Done Changed" and the genre-crossing hit "Juicy." The "shiny suit era" of hip-hop was underway and record industries saw nothing but dollar signs from emerging rappers.
The raw potential layered in Christopher Wallace's rhymes thrill me every time I hear them. At the same time, it brings me down as I feel cheated out of hearing more of his story. You can only feel some type of emptiness when you hear his self-deprecating verse on "Suicidal Thoughts." From the moment Wallace's birth is reenacted on the intro of his first album, it's already predetermined that death is coming for him. Wallace saw death creeping up on him at all times. His second album was named "Life After Death" before he was even murdered with his debut album named "Ready to Die." He knew his place in life was limited, but he knew his impact would be felt for decades afterwards.
B.I.G. didn't reach his peak. I don't feel he was anywhere near it when he was taken from this earth twenty years ago today. He still had so much to say and so much to teach every listener.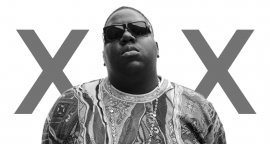 We will never know what could have been. We can only spin his two albums and a handful of miscellaneous tracks to fill the void he left.