Steward prepared to take on leadership role
As he prepares to step into the empty seat being left by retiring OCCC President Paul Sechrist, current Executive Vice President Jerry Steward said he already has a clear-cut mission of his own for the college.
"The real reason that I want to be president is I want education to do for our students what it's done for me," he said.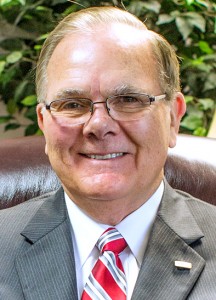 "I want education to transform the lives of OCCC students like it transformed my life."
Steward said he understands the obstacles students face and knows they aren't generally leading the "typical college experience."
"Most of our students are working," he said. "They're providing for a family. They're not trust-fund babies. They don't have it easy. That's where I came from.
"I worked my way through college as a janitor … . I had a wife and a baby and all the things that most of our students do, and I understand where they are."
Lobbying for higher education also is high on the list for Steward. He said he has maintained a consistent presence at the state Capitol during his 20 years at OCCC, and, before that time, during his four years as a state representative from 1976 to 1980.
"There are some colleges that pay lobbyists to do that work for them," he said. "In our case, I do the majority of that work for OCCC.
"Because of my background with the Legislature, because of my experience, because of my contacts with the current members of the Legislature, I can serve the college best by continuing to represent OCCC at the Legislature.
"That's what I intend to do."
Steward said he also will continue to work with city council, county commissioners and the U.S. Congress to push for the best funding the college can get.
He said while the outlook for education funding looks bleak. things could be worse.
Steward said in the hours before the Legislature's final budget agreement was reached, it appeared cuts to state appropriations for higher education would be even more drastic.
He said he was at the Capitol the day before the final vote, asking the Senate for the lowest cut he could.
"It is awkward for me to say to you that I am pleased higher ed only got cut (by) 3.5 percent.
"I feel good about us reducing the amount of the cut. I don't feel good about higher ed being cut at all. In fact, there should have been an increase."
Steward said he doesn't expect state funding to improve any time soon.
"Virtually every legislator I talked to during the entire session about the budget said something like this, 'If you think this year's bad, wait until next year.'"
To eventually change that trend, Steward said, everyone involved has to become even more dedicated to the success of education.
"We need to make the best case we can to the Legislature about the value of higher education," he said.
"We need to make sure legislators understand that education is an investment in improving education. It's an investment for the future."
He said most of the state's legislators benefited from higher education in Oklahoma and he will remind them of that.
To help ease the reliance on state funding, Steward said, he will continue to dedicate himself to raising funds for the college from other sources: federal funds, grants and private donations.
Steward said among his greatest professional accomplishments — and something he is even more proud of achieving for the sake of the school — is the more than $10 million he has raised for OCCC since 2011 through what he said were his direct efforts in the Legislature.
"I'm pleased because I know what the money has gone for," he said.
Named to the presidency by a Board of Regents vote in April, Steward will take office on Thursday, July 2.
He said his first official act as president will be to appoint a new executive vice president.
It will then be up to that person, he said, to appoint their own replacement to their former position.
Steward said, before July 2, he will announce no plans for any change in college operations.
He said the President's Leadership Class, developed by Sechrist in 2011 to instill principle-centered leadership in its students, will continue under his presidency.
Steward said he looks forward to teaching again and is excited to take on this class.
His true duty as president, he said, is to serve OCCC's students.
"I would like OCCC students to know they have a friend in the president's office," he said.
"They have a president who has been both a student and a teacher. I understand what the students are going through to get their education and I want them to know they have a president that understands what they're going through, understands how they feel, and understands how difficult it can be sometimes."
Steward said, while state education is facing challenges, he knows OCCC and its students have what it takes to remain dedicated to success during hard times.
"Yes there are tremendous challenges, but we're going to get through this," he said.
"We are going to move forward. We are going to make progress and the best days are ahead of us. I won't make it happen. But all of us together will make it happen."