Steward names executive VP successor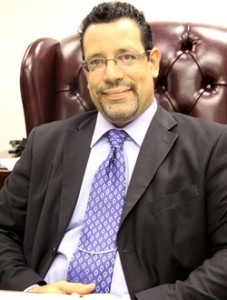 As promised in a Pioneer interview in June, Jerry Steward used his first administrative action in his new position as OCCC President to name his successor to the Executive Vice President's office.
Steven Bloomberg, OCCC's Community Development Vice President since 2010, was appointed to the role of Acting Executive Vice President for his "dynamic leadership and strong track record of performance in higher education," Steward said.
"I am confident that Mr. Bloomberg will continue to provide excellent leadership to the college in his newly expanded role."
Bloomberg said he looks forward to taking on the expanded responsibilities of his new position.
"It's going to be some work" Bloomberg said, "There's a lot to do but I think it's going to be fun."
On Thursday, July 2 — his first day as college president after replacing the newly retired former President Paul Sechrist — Steward also appointed Lisa Fisher as Acting Vice President of Enrollment and Student Services.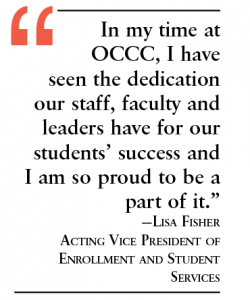 After serving as Student Support Services Director since July 2013, Fischer will replace Marion Paden who recently retired, Steward said.
"I'm honored that President Steward has asked me to serve as the Acting Vice President for Enrollment & Student Services," Fisher said.
"In my time at OCCC, I have seen the dedication our staff, faculty and leaders have for our students' success, and I am so proud to be a part of it."
Business Dean Anne DeClouette was appointed as the Academic Affairs Acting Vice President, filling the position left vacant by Felix Aquino's return to a faculty position, Steward said. DeClouette was not available for comment.
Aquino voiced his approval of Steward's choice.
"Given the fact that I hired her, I am very pleased that Dr. DeClouette is being given this opportunity," he said. "I know she will acquit herself admirably."
Aquino said after 35 years working in administration, he's happy about the prospect of ending his career as it began, in the classroom.
"I look forward to the day-to-day interactions with students and hope that I can play some small role in their future success," he said.
Steward said Bloomberg, as the new Executive Vice President, had the opportunity to name the successor to his former position — Community Development Vice President. That position reports directly to OCCC's Executive Vice President, Steward said.
Lemuel Bardeguez, OCCC's Cultural Programs Director, was appointed to the Community Development Vice President position. Bloomberg said Bardeguez is "a more than suitable replacement."
In his former position as Cultural Programs Director, Bardeguez also served as the managing director of the OCCC Visual and Performing Arts Center; the director, producer and promoter of the OCCC Performing Arts Series; and the college's flagship annual community arts event, Arts Festival Oklahoma.
He also serves on the board of directors of the Cultural Development Corporation of Central Oklahoma, a non-profit organization for developing arts and culture in central Oklahoma.
Steward said it's these types of initiatives that have inspired the community surrounding OCCC and demonstrated the true capabilities of its leaders.
"Our Community Development programs have had an enormous impact on the lives of thousands of Oklahomans each year — from our workforce development courses to our annual Arts Festival Oklahoma," Steward said in a recent press release.
Of his promotion, Bardeguez said, "I'm looking forward to continuing to serve OCCC like I have in the past."