Staying alert means staying safe on campus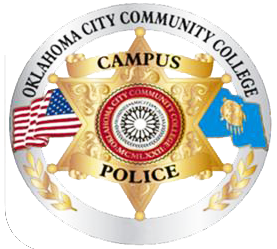 OCCC has a well-trained campus police department with officers who are available to help students whenever a need arises.
Officer David Madden offered advice for students to help keep themselves and their property safe.
Regarding vehicles being broken into, Madden said it's very important that nothing is left out in the open.
"Make sure your doors are locked.
"Thieves aren't always students and some have no problem breaking into a vehicle in order to get to an empty backpack that they think may have a computer or something valuable inside," he said.
Even books are not safe to leave in plain view. When textbooks are stolen, thieves take them to bookstores that don't require identification and sell them for quick cash, Madden said.
He advised students to be aware of their surroundings at all times and contact campus police if they see a vehicle driving slowly around a parking area where there are plenty of open spaces, if someone pulls on a door handle then keeps walking, or if a vehicle stops in a lane behind other cars; especially if they get out.
To help officers locate the suspect, get a good description of the person and vehicle including gender, age, height and build, race, hair and eye color, facial hair, eyewear, clothing and descriptive markings.
Get the vehicle's tag number if possible and know the make, model and color plus any unusual details such as dents, bumper stickers, or aftermarket alterations, Madden said. He said do not attempt to approach the person yourself.
Madden said most thefts are a crime of opportunity. If a door is unlocked, it's easy for the thief to reach inside and quickly leave the scene.
"More often than not, they won't break a window," he said.
If you notice someone has been inside your vehicle, but nothing's been taken, you should still report it to campus police. The officers will pull up footage from their surveillance cameras to get a description of the vehicle or person involved. Even if they have left the scene, if they return at a later date, the police will then be ready to question them and possibly make an arrest.
He said not all thefts take place outside of the building. Even if you are planning to be gone for only a short time, Madden said, keep your property close.
"Don't think that you can just leave stuff unattended. Collect your things and take them with you." Madden said the items most likely to be taken from vehicles and inside of the campus are electronics, laptops, cell phones, aftermarket stereos, subwoofers and books.
If you need help or wish to make a report, you may either visit the campus police office on the first floor of the Main Building, contact them by phone at 405-682-7872, or use one of the call boxes in the parking lots.
"Call boxes are a priority call," Madden said.
Calls made on the blue call boxes go directly to the dispatchers. The older blue ones and those connected to the 60-foot light poles go directly to the officers' radios. The officers will know your location by what callbox you are using.
"The office is always open," Madden said.
For more information, visit www.occc.edu/police.