State Fair serves up great food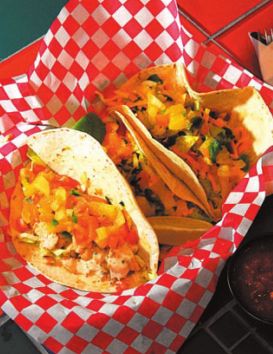 Professional food vendors of the 2012 Oklahoma State Fair went head to head in the third annual State of a Fair competition on the first day of the fair, Sept. 13.
Within the categories of savory and sweet, judges were asked to pick first and second places for best taste and most unique. A total of 17 vendors put forth some of their best dishes for nine judges to sample and decide between.
Judges chose the Juicy Lucy Cheeseburger from Burger and Chili Shack as the best tasting of the savory items entered.
The Juicy Lucy is two hamburger patties put together and cooked with American cheese in the middle of them. Ragin' Cajun Fresh's Hand Breaded Chicken Tenders placed a close second. Judges said they loved their handmade hot sauce.
The Fire and Ice Concessions' Porkabella Kabobs won first place for the most unique savory item. They were skewered portobello mushrooms wrapped in bacon, grilled, and served with pita chips and hummus. The second place went to Quesadillas prepared by Ledesma's Concessions.
The best tasting sweet was the Oklahoma Cabernet Chocolate Souffle entered by Coco Flow. This was a molten chocolate cake topped with a type of vanilla bean whipped cream and strawberries and drizzled with a chocolate cabernet sauce. Rodney and Lisa, Ltd's Caramel Apple Pie Fancy Caramel Apple came in second.
Judges decided the most unique sweet entered was the Fudge Puppy offered by Sophie's Sidewalk Cafe. The Fudge Puppy was a cylindrical Belgian waffle covered in chocolate and topped with a choice of sprinkles, toffee, or strawberries with nuts and whipped cream. Second place was given to the Deep Fried Bacon Brownies.
A consensus of the worst thing entered was the Deep-Fried Cookie Dough On-A-Stick from Aunt Edmoes Cookies. Judges said it was too salty and gooey on the inside.
If you plan to attend this year's Oklahoma State Fair you can try one, or all of these sweet and savory foods for yourself.