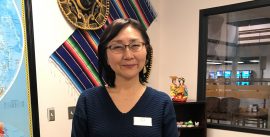 Chiaki Troutman says the World Languages and Cultures Center at Oklahoma City Community
College is a culture-rich experience. Troutman has been the lab coordinator of the WLCC since
"We're a learning, academic lab. The only difference is that it's open to all students and
community members," she said. "Anyone who wants to use this space, is welcomed."
Troutman is from Sapporo, Japan. She taught English as a foreign language for ten years there.
She came to the U.S. in 2003 and attended Oklahoma City University. There she earned her
Master's Degree in Teachers of English to Speakers of Other Languages or TESOl.
Troutman said her lab offers the language-learning program Rosetta Stone, which helps users
learn 25 different languages. For the most part, there is usually no charge to use the program.
"The most popular language is Spanish, and then Japanese," Troutman said. She said some
students can finish a course within one semester.
The WLCC is located on the second floor of OCCC's Main Building. It's a colorful room, with
computers, tables, lounge couches and a television, where students can watch foreign television
"It's usually quiet in here. Sometimes it's too loud," she said.
To use the lab, students their identification cards to check in. "Over the past ten years, there
have been almost 41,000 check-ins at the WLCC," Troutman said.
The lab has recently put out display boards to grab more people's attention. The boards usually
define a word in a different language, or present a fact about a specific culture.
"Thank you to those who pay attention to them!" Troutman said.
Troutman said she enjoys working at the WLCC, and seeing all the diversity that comes with it.
"We're all one community, a melting pot," she said.