Spring graduates about to walk the walk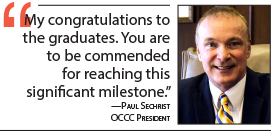 The following students have applied for May graduation. Diplomas will be granted after credentials are completed and degree requirements are met. Students who fulfill degree requirements may participate in the May 8 commencement ceremony.
Aaron Abke, Laura Ables, Ellah Abuta, Autumn Ackerman, Joseph Addo, Ademayowa Adeoba, Chris Adkins, Edward Aguirre, Katy Alcorn, Aaron Alfonso, Sarah Ali, Brandy Allen, Kenneth Allen, Alia Alsaif, Gabriela Alvarado, Veronica Alvarado, Anna Alvey, Uchechi Am-aeze, Devin Anderson, Elizabeth Anderson, Melinda Anderson, Crystal Andrews, Kyle Andrews, Clara Arellano, Erica Armstrong, Paula Armstrong-Fugett, Sandy Arnold, Ekaette Atakpo, Taylor Atherton, Will Atouchwi, Katie Axtell, Dennis Ayitiah, Tia Bailey, Daniel Baker.
Randi Baker, Steven Baker, LaTrenda Balderas, Ashley Barnhart, Jessica Barrington, Alejandro Barron, Shekinah Barry, Alanna Barton, Taylor Beard, Mariah Becker, Angela Beery, Amanda Belcher, David Belk, Shannon Bell, Enrique Benitez, Bill Berry, Diana Bertram, Angela Beson, Adam Bilby, Nicholas Binder, Beth Bishop, Hayley Bishop, Jeff Bishop, Kyle Bishop, April Bitner, Hannah Blackford, Russell Blackmon, Ashley Blake, Jeremy Blake, Lauren Blatzheim, Theron Blunck, Nicole Boggs, Katayoun Bohloly, Gregory Bond, Samuel Bond, Kenyon Bonds, Austin Borjas.
Katherine Bornholdt Smith, Kelli Borrell, Mathew Borum, Eraka Bowens, Sherrell Bowen, Tiffany Bowler, Bailee Boyd, Angela Brand, Brittney Brassfield, Blake Brennan, Crysti Brierton, Victoria Brittian, Hayley Brock, April Brooks, Paula Broome, Amanda Brown, Jesica Brownfield, James Brown, Karen Brown, Kristopher Brown, Marty Brown, Afefa Bruner, Russell Bruner, Mark Bryant, Matthew Bui, Olivia Bunn, Shayla Bunyan, Rodney Burges, Kavin Burke, Jennifer Burkhardt, Shelby Burnett, Kendall Burnside, Leslie Bush, Stacy Butler, Matthew Butzer, Molly Byrom, Marisela Cadena, Eric Caillouette, Chandler Campbell.
Hayley Campbell, Kelci Campbell, Tristan Campbell, Misty Canary Vawter, Angel Carattini, Miranda Carlisle, Brian Carrethers, Brian Carrigan, Norma Carrillo, Tabitha Carroll, Anna Carter, Krystal Carter, Doraliza Carvo, Courtney Casey, Nicolette Casula, Christine Cataldo, Alyssa Cavner, Odalis Celaya, Dezaree Chambers, Miles Chaney, Chao-Yang Chang, Sarai Chavez, Yun Chen, Branson Chic, Nichole Childress, Tiffany Chiu, Caressa Choat, Mahbuba Chowdhury, Vivian Chu, Trina Clark, Amanda Clutter, Kate Cobabe, Brandan Cobb, Tanzy Colasanti, Rachael Colbart.
Jessica Collier, Brittany Combs, Deartrous Conerly, Jonathan Conway, Cameron Conyers, Darci Cook, Anahi Cortes, Lindsey Couch, Colton Craft, Brittany Cramton, Kimberly Creek, Sterling Crews, Angela Crissinger, Jorge Crooks-Becerra, Kailey Crossley, Courtney Crouse, Mayra Cruz, Aaron Culwell, Philip Cummings, Nicole Cunningham, Brian Cushman, Lauren Daniel, Thu Dao, Ashley Dartez, Chris Davis, Bethani Day, Rachel Deer, Kasey De la Cruz, Itzelly Delgado, Cody Delk.
Mayra Delossantos, Amanda Dely, Sheena Dennis, Julie Denton, Dalia Diaz, Bracinya Dixon, Amanda Dobbs, Jorge Dominguez-Manjarrez, Suifen Dong, Trung Do, Joseph Douglas, Andrea Doyle, Megan Dressler, Stephen Drews, Madison Dreyfuss, Todd Droscher, Nicholas Duncan, Michaela Dunn, Robert Durham, Erikka Eaton, Douglas Eckert, Megan Edison, Imani Edmond, Arielle Edwards, Sherry Eggleston, Tory Eldridge, Lisa Ellis, Sarah Ellison, Tabitha English, Andrea Espinosa, Yuli Evans, Blake Fabian, Jeremy Falk, Sandra Fast.
Taylor Faulkenberry, Matthew Feisal, Joseph Fellin, Austin Felts, Breana Ferguson, Abra Figueroa, Michael File, Kari Fisher, Jason Fixico, Kelsea Flewellen, Holly Ford, Justin Fowler, Shane Fowler, Tyler Franklin, Abbie Freeman, Abigail Fritz, Natalie Fryar, Shereda Fuentes, Maureen Fuller, Chelsie Gabel, Jessica Gaddis, John Gaines, Sherrion Gaines, Jayme Gaiser, Dianna Gallardo, Mariana Gallardo, Amanda Gann, Daniel Garcia, Jessica Gard, Karen Garlitz, Samantha Garner, Nathanial Gauwitz, Joseph Geffre, Katrina Gellhaus, Kortni Gentry, Thomson George, Gretchen Gerlich.
Sheree Germany, Johnnie Gilpen, Brittney Gimlin, Christopher Gimmel, Lauren Girard, Robert Glendening, Courtney Goff, Bailey Goldsby, Jorge Gomez, Chen Gong, Blanca Gonzalez, Edgar Gonzalez, Karen Gonzalez, Lizette Gonzalez, Jessica Goodin, Stephanie Gordon, John Gorman, Leigha Gorton, Deidre Graham, Shane Graham, Lluvia Granados, Alaina Grant, Kristen Graves, Chris Green, Kendra Green, Kacey Greenlee, Edwin Grimes, Monica Grove, Vanessa Gulley, Roberto Guzman, Seddik Halabi, Emily Hale, Stephanie Hale, Kira Hall, Michelle Hall, Mallory Hamblin, Lauren Hammer, Brittany Hardin, Rachelle Harjo.
David Harkey, Lori Harless, Davidetta Harmon, Elizabeth Harmony, Angela Harper, Dillon Harper, Katie Harrell, Victoria Harrell, Daryn Harris, Diana Harrison, Diana Hartig, Christopher Hatcher, Alisha Hauch, Eliza Hawkins, Sarah Hays, Heather Haywood, Joshua Heath, Sarah Heath, Taylor Heckart, Wendell Hedrick, Jessica Heiderstadt, Dustin Helms, DeAnna Hempel, Rochelle Henagar, Kendall Hendricks, Anne Hendrickson, Crystal Hendrix, Michael Henry, Bonnie Herman, Desiree Hernandez, Isai Hernandez, Julio Hernandez, Sandra Hernandez, Rachel Herrera, Tyler Hewling.
Jessie Hicks, Brenton Higgins, Kristina Hightower, Saltreece Hightower, Tracy Hightower, Rikki Hileman, Ashli Hill, Chelsi Hill, Irving Hill, Jason Hill, Tammie Hise, Huy Hoang, Vu Hoang, Jerika Hobza, Valorie Hodges, Devin Hoggan, Alex Holder, Jared Hollandsworth, Jason Holt, Elise Hopkins, Kimberley Horne, Edward Horton, Jennifer Howell, Seth Howell, Emily Hubble, Taylor Hudson-Mahaffey, Christian Hughes, Holley Hughes, Shelia Humphrey, Kiley Hunter.
Beverly Hurley, Jessica Hutchinson, Sarah Hutson, Peter Huynh, Tyler Iago, Raul Ibanez, Rachel Interwicz, Lynette Irwin, Taslima Islam, Valencia Islas, Brianna Jacobsen, Tessa Jaco, Amie Jacques, Khurshid Jahan, Kendra James, Morgan James, MacKenzie Jennings, Michelle Jezioro, Ashley Jiron, Angela Johnson, Camille Johnson, Essie Johnson, Gina Johnson, Jay Johnson, Lori Johnson, Nikko Johnson, Ramona Johnson, Robert Johnson, Sherman Johnson, William Johnson, Brooklyn Johnston, Rachel Joiner, Amanda Jones, Carroll Jones.
Kathryn Jones, Kristofer Jones, Michael Jones, Tadra Jones, Ciel Jordan, Jamie Jordan, Kenneth Jordan, Krista Jordan, Stanley Joseph, Bishal Joshi, Dillon Juby, Seunghun Jun, Keith Kalinich, Lesley Kassube, Christ Kaya, Brooke Keasler, Stephen Keel, Manuela Keithley, Kobie Keller, Tommy Keller, Eric Kelley, Sarah Kellum, Christina Kelly, Ricky Kendrick, Leslie Kennedy, Shaina Kennedy, Tyler Kennemer, Erik Kenrick, Tsega Kidane, Victoria Kilgore, Tanya Killman, Iris Killough, Tae Kim, Melanie King, Lawrence Kirkendoll, Theodore Kleinholz.
Justin Knight, Amanda Knowles, Kaylin Kovelda, Jorge Krzyzaniak, Aaron Kwei, Brandi Laib, Taylor Lamb, Roxanne Lamothe, Diana Langham, Nicholas Lang, Barbara Lanier, Rebecca Laranang, Kacoria Lassien, Julia Laugerman, Melissa Lavallee, Jennifer Lawrence, Mary Lawrence, Bradley Lawson, Sarah Lawson, Yessenia Lazos, Catherine Le, Bobbie Ledford, Rachel Lee, Juana Leija, Kathy Le, Paulle Lendoye, Jenifer Lesiter, Savannaha Lester, Tho Le, Nora Le'Vere, Penny Lewis, Taryn Libby, Zhiqiang Lin, Emilee Littlejohn, Jennyfer Livingston, Shaun Loeffler, Laura Lofftus, Angela London, Dillon Long, Thomas Looney, Angelica Lopez.
Margarita Lopez-Luera, Meredith Lowber, Louran Lowder, Jacinda Lowry, John Lowry, Oscar Loza Hoyos, Samantha Lucas, Daniel Lukinbill, Kristina Luna, Lesley Luna, Kayla Lunsford, Mylinh Luu, Tiffani Lynch, Krista Lynn, Victor Macias, David Madden, Jenna Maennena, Hayden Magar, John Magelssen, Lucy Maina, Rebecca Major, Lyric Mallow, Sharon Manley, Ramona Manzanares, Morgan Marlow, Jody Marshall, Aundrea Martin, Daniel Martinez, David Martinez, Jacob Martinez, James Martin, Kathryn Martin, Van Martin, Victoria Massey, Nairi Matevosyan, Sarah Mathews.
David Matlick, Taylor Maxwell, Amanda May, Michael Mayfield, Callie Mazzagatti, Michael McAdams, Kathy McCall, Shawn McCarther, Leslie McClure, Kathryne McCracken, Ryan McCracken, Alexandra McDougal, Bryce McElhaney, Jonathan McFerran, Yvonna McGuire, Patricia McHargue, Jeremy McKinley, Garret Medell, Natalie Melancon, Adam Melton, Felisha Mendez, Kathryn Merritt, Jason Meyer, Matthew Meyer, Nicholas Meysing, Nathan Milam, Ronald Miller.
Amanda Million, Amanda Minzey, Courtney Mitchell, Penny Mitchell, Sarah Mitchell, Ryan Mobley, Chelsea Moon, Mary Moon, Hannah Moore, Jerrit Moore, Mary Moore, Misty Moore, Nakesha Moore, Jaren Moorman, Jamie Moriarity, David Morris, Robert Morris, Jennifer Morton, Quinton Mountain, Benjamin Mowbray, Megan Mowbray, Valerie Mueggenborg, Sarinda Mueller, Angela Mullins, Orville Myers, Agnes Ndegwa, Emelda Cynthia Ndibabonga Gamuah, Krystal Nelson, Chasitie Nero, Kaylen Newbury, Courtney New, Rhonda Newmark.
Thanh Ngo, Phuong Nguyen, Thien Nguyen, Andrea Nicely, Austin Nieves,  Kynli Niles, Kristyn Noland, Sara Noriega, Anthony Norton, Nariman Obias, Miriam O'Connor, Claudius Oladele, Cathryn Olsen, Kathryn Olson, Mara Ortega, Richard Ortiz, Elizabeth Otido, Melanie Ovalle, Sara Ozgunesliler, Bailey Pack, Bryan Pak, Chenisindra Pando, Brenda Pantoja, Jannette Paramo, Alan Parker, Robert Parker, Kelly Parrish, Kent Parsons, Chandini Patel, Dhwanisha Patel, Aminata Paye, Ndeye Paye, Liberty Payne, Kasie Pedulla, Evan Pendleton.
Ryan Pennington, Carina Peralta, Mason Pereira, Gabriela Perez, Lorena Perez, Andres Perilla Lozano, Emily Perry, Jenna Phillips, Ashleigh Pierce, Monica Piros, Thomas Pitts, Jena Polish, Shanita Porchia, Nathan Post, Adam Prince, Yen Quach, Raven Quartey, Ryan Raberding, Jimmie Rader, Armon Radfar, Indira Rai-Choudhury, Ana Ramirez, Maria Ramirez, Ashley Ramos, Nicholas Ramos, Dustyn Rappe, Andrew Rasbold, Morgan Ratliff, Mayra Raygoza, Kimberly Ray, Corrie Reagan, Miranda Reagan, Lauren Redus, Christopher Reece, Ryan Reynolds, Phillip Rhoton, Tiffani Richardson, Tanya Richard, Rebecca Riddle, Natasha Riggs, Kerren Ritchey.
Robert Ritter, Trevor Roach, Calum Roberts, Julie Robertson, Patricia Roberts, Alfred Robinson, Anna Robinson, David Rochat, Melissa Rodarte, Lesbia Rodas, Lauren Rodebush, Kristin Rodgers, Elida Rodriguez, Leslye Rodriguez, Iliana Rojas, Jennifer Rorex, Raquel Rosa, Shawna Rosenfelt, Brittany Ross, Theodore Ross, Adelaide Roy, Danica Runyon, Julia Rusert, Alexa Rushing, Caitlin Russell, Jenni Sabatino, Josh Sadler, Christopher Saenz, Adebowale Salako, Paulina Saldana, Marcos Saldana Rojo, Kerina Salzwedel, Jeanis Sananikone, Kristen Sanford, Kathy Sawyer.
Ashleigh Schaffer, Scott Schatzer, Scott Schlesinger, Kieran Schmult, Mariah Schrader, MacKenzie Sconce, Heyle Scott, Jacob Scrivner, Jake Scroggie, David Scroggins, Nathan Scroggins, Sarah Sehhati, Luke Selby, Brittany Sexton, Brooke Shackleford, Nichole Shadid, Alisha Shafer, Joseph Shatswell, Lisa Shaw, Sara Shaw, Lindsey Shed, Caitlyn Shelley, Jacie Shelton, Staci Shepherd, Pema Sherpa, April Shirazi, Kristopher Shoemaker, Mary Shoemaker.
Olaoluwatoyosi Shogbamimu, Morgan Shoop, Heather Short, Frank Shover, Desiree Shroyer, Jack Shuler, Sydney Silvey, Bryson Simer, Shristi Singh, Christopher Smith, Erin Smith, Hunter Smith, Karli Smith, Kiel Smith, Lacie Smith, Pamula Smith, Heather Smoot, Sallie Snipes, Anna Soh, Mariah Soliz, Joel Soria, Karina Sosa, Vanessa Sosa, Grisel Soto, Stephanie Southard, Andrea Spears, James Spears, Trenton Stamps, Amanda Standefer, Erica Staton, Janelle Staton, Jesse Staton, Samantha Stevenson.
Trinni Stevens, Ivory Stewart, Katelyn Stimpson, Tillie Stracener, Michael Stuckert, Saeeda Sultana, Grant Swayze, Tyrel Tachibana, Erica Talley, Tara Tate, John Taylor, Michael Taylor, Shawn Templin, Lukee Thein, Melissa Thomas, Vincent Thomas, Corey Thompson, Dallas Thompson, Cody Thornton, Rodney Thornton, Virginia Thornton, Erin Tilley, Lisa Tippett, Amber Tobin, Emily Tomberlin, Ricardo Torres, Hung Trang, Hoang Tran, Cooper Treadaway, Whitney Tresler, Sarah Trosper, Victoria Tucker, Dawn Turpin, Adam Tuttle, Jesse Uffen.
Christopher Valencia, Karina Valero, Megan Van Lew, Benjamin Vanness, Richard Van, Jorge Vasquez, Brooklyn Venegas, Jeannia Vickrey, Wendy Viezcas, Steven Viney, Tan Vo, Robert Vrtis, Minh Vu, Jessica Wade, Mu Wah, Sarah Walker, Ryan Wall, Michelle Walton, Celeste Warden, Christine Washington, Morgan Weaver, Cynthia Wedel, Jordan Wehling, Gerald Welch, Diana Wells, Angela West, Elizabeth West, Kim West, Jana Whatley, Latoya Wheeler, Amos Whitebird, Gina White, John White.
Micheal White, Robin Whiteneck, Rochelle White, London Whitlaw, Kori Whitsitt, Regan Wickwire, Christopher Wilbur, John Wilkins-Kirk, Paxton Willard, Ashley Williams, Bronson Williams, Curtis Williams, Darby Williams, Deborah Williams, Jamal Williams, Jennifer Williams, Kristy Williams, Krystal Williams, Rochelle Williams.
Shannon Williams, Tia Williams, Zachary Williams, Bobbie Wilson, Lesa Wilson, Kiziah Winn, Desiree Wolf, Meagan Wolfe, Andrew Womack, Lesley Wood, Alicia Woodring, Brittan Woods, Jacob Woods, Chara Word, Angela Wright, Bonnie Wright, Jeremy Wright, Maria Wright, Micah Wronowski, Julie Yang, Carine Yem, Kyndle Young, Angela Younkins, Ana Zambrana, Barbara Zavala Renteria, Sarah Zimmer.