Sports Preview: Thunder VS. Warriors
Oklahoma City Thunder @ Golden State Warriors
9:30 p.m. ESPN
Following a tired loss to the Los Angeles Clippers, Russell Westbrook and the Thunder take on a familiar foe Wednesday night in Kevin Durant and the Golden State Warriors.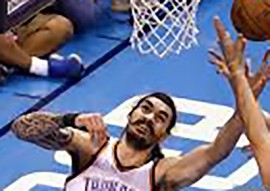 After a hard fought 122-118 victory over Sacramento on Jan. 15, the Thunder continued their four-game road trip Monday against the L.A. Clippers. OKC was forced to go without center Steven Adams, who sustained a concussion against the Kings. Adams' absence would prove costly for the Thunder defensively. The Clippers easily got inside the paint, becoming an offensive force OKC struggled all game to stop.
The team leaned on Russell Westbrook to bring the Thunder back, but the point guard struggled early, only converting three for 13 in the first half. He would finish the night with seven of 19 for 24 points.
The Clippers lead would be too deep a hole for the Thunder as Los Angeles prevailed 120-98.
Golden State comes into Wednesday night's tilt riding a four-game winning streak, their latest being a 124-98 rout of the Cleveland Cavaliers on Jan 16.
Steph Curry and his crew of superstars shined on the same floor the Cavs won a championship last June.
Golden State and the Cavs matched one another blow for blow but eventually, the Warriors showed to be too much for LeBron James (who was 6 of 18 for 20 points) and the Cavs.
Steph Curry finished the night 7 of 20 for 20 points, Klay Thompson was 8 of 17 for 26 points, Durant was 9of 16 for 21 points.
Thunder Head Coach Billy Donovan told reporters that center Steven Adams will not play in Wednesday's contest. Adams will miss his second straight game due to the concussion he sustained against Sacramento.
This will be only the second occasion of the four game series the Thunder will face the Warriors. The last time these two met, was on Nov. 3 in Oracle Arena where Golden State routed the Thunder 122-96. Durant had the night's highest point total among his teammates, hitting 15 of 24 for 39 points against his former team.  
PREDICTION: I think OKC will give it all they have but they failed to match Golden State when the team was healthy and now they're forced to be without Steven Adams this time around, needless to say, it won't be pretty.
125-98 WARRIORS