Speech celebrates achievements of civil rights leaders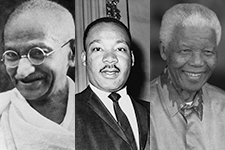 Mohandas Gandhi, Martin Luther King Jr., and Nelson Mandela drew praise for their courage and perseverance in the face of the world's most difficult challenges in a Feb. 18 speech celebrating Black History Month.
Political science Professor Sharon Vaughan said these three men of color used principles of nonviolence to fight for freedom in their white-dominated countries. She spoke in the College Union to an audience of about 40.
"We should read Gandhi's writings, Dr. King's writings, and Nelson Mandela's writings," she said. "We should know about their personal journeys, because they have so much to teach us."
Vaughan had a positive message about the effect these leaders had in fighting for civil rights for all human beings.
Gandhi is known for his non-violent approach against the corrupt and tyrannical British rule in India during the mid-20th century.
King has been recognized as an American icon and is best known for his famous "I Have a Dream" speech, she said. He took some of the non-violent tactics, which Gandhi had used in his approach to fighting for civil rights for Indians in their own British-controlled country and used them in the U.S. in the 1950s and '60s.
Vaughan noted that both Gandhi and King were assassinated.
Mandela is known for his dedication to fighting racial segregation, or "apartheid" in South Africa. Mandela was imprisoned for 27 years for conspiracy to overthrow the state of South Africa. However, his work was not in vain as he eventually became president of the country in 1994, Vaughan said.
Mandela died of natural causes in 2013 at the age of 95.
Their efforts were world changing, she said. The British no longer rule in India, people of all colors now have equal rights under the law in the U.S., and there is no longer apartheid in South Africa.
Vaughan spoke not only to praise the achievements of these great men, but also to show the audience how they are examples for the kind of people that are needed in today's world.
"They are so relevant to us today," she said. "Our world yearns for moral leadership and political courage. We find these in the lives of Gandhi, King, and Mandela, because they fought for a world that was less violent, less bigoted, and certainly a world that would be more just and more peaceful."
History major and member of Student Life, Michael Boyd, said he found value in Vaughan's message.
"One of the main things that stood out to me was how she emphasized . . . one man's actions can change the history of the world," he said. "It all stems from wanting to find something that's better than the current condition that they're living in. It all comes from that single choice to say that I'm going to stand up and I'm going to fight against the injustice that we're facing."
Journalism and Broadcasting major Grace Babb said she appreciated how Vaughan talked about the humanity of these famous people.
"I thought it was really interesting how she related them to being human beings just like us, like everyday people, and how they made such a change."
Babb's sister, Sophia Babb, also a Journalism and Broadcasting major, attended the speech as well.
"I liked how she talked about how each individual needs to make a difference," Sophia Babb said.
Vaughan said she will be teaching a class in Political Theory next fall in which she will be presenting this aspect of political action in more detail.
For more information, contact Sharon Vaughan at 405-682-1611, ext. 7302, by email at sharon.k.vaughan@occc.edu
To contact Timothy Smith, email onlineeditor@occc.edu