Spanish radio station amazing find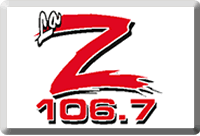 I was recently asked to review a local radio station called "La Zeta" on KTUZ 106.7FM for a class assignment. The station is primarily in Spanish with the exception of a few English translations here and there.
Moving to Oklahoma, the heart of America's Bible Belt, I was afraid I'd leave the hometown feel of New Mexico and West Texas where I grew up.
But it's Oklahoma City's little perks like La Zeta that remind me of my childhood collecting rocks and strange keepsakes out in the desert sun, and eating the tortillas that my grandmother made from scratch.
Though I don't consider myself fluent in Spanish, my mother is Hispanic and I've learned from experience what most Spanish words mean — especially the bad ones.
However, from the Spanish I've gathered from La Zeta, I was very impressed and excited to listen.
The station is upbeat and fun, much like the Spanish language itself.
In the mornings, La Zeta airs a syndicated broadcast featuring radio personality Don Cheto, a well-known comedian in the Latino community.
The conversations seemed to go well, with Cheto telling a female caller at one point that she needn't worry about the man she'd recently split with because she was going to be just fine. He also informed a caller named Carlos that he should have more respect for his elders.
It's difficult trying to find a decent Mexican restaurant in Oklahoma, but at least it's easy to find a quality Spanish radio station.
Traditional Spanish flare is prominent throughout La Zeta's programming, advertisements, and music. It had a great balance of fast-paced, dance-inducing songs as well as slow-paced, romantic ones.
The station even played a song by Los Tigres Del Norte, a Norteño band that my grandmother loves to listen to. And since it's an FM station, La Zeta has a superb sound quality.
La Zeta's website includes a link to Cheto's Facebook as well as other important information regarding the station and its upcoming events. However, it's difficult to navigate if you aren't a native Spanish speaker.
I advise anyone who loves Spanish music to tune-in to La Zeta and experience the flare and fun of KTUZ 106.7 — you'll find it hard not to listen.
Rating: B
To contact Siali Siaosi, email seniorwriter@occc.edu.