South OKC hosting Fiestas de las Americas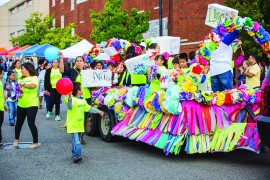 Rich Hispanic culture, Latin rhythms and authentic food options will fill the streets of Historic Capitol Hill on Oct. 1 as the Fiestas de las Americas celebrates the multicultural heritage of Oklahoma City, organizers said.
Fiestas de las Americas, an annual community event hosted by Calle Dos Cinco will take place in south Oklahoma City on SW 25th street between Hudson and Robinson, said Donna Cervantes, Calle Dos Cinco coordinator.
"You will see Guatemala, México, Colombia, El Salvador and many more countries represented during the festival," she said.
The all-day event kicks off with a 5K run at 7 a.m., followed by the most anticipated part of the festival, the Parade of the Americas beginning at 9 a.m.
Tango Public Relations operations vice president Brenda Hernandez said Historic Capitol Hill offers something very unique to Oklahoma City.
Brenda Hernandez said the districts around town offer unique festivals showcasing their area.
"You hear about the Plaza District, Film Row and all these wonderful things that are happening but what's unique about Historic Capitol Hill is the cultural diversity that we have, particularly our Hispanic culture," she said.
Cervantes said elementary schools from the Oklahoma City Public Schools district and the area's surrounding colleges and universities show their school spirit and showcase their cultural roots on the floats they design for the festival's parade. During the parade, floats are judged and one is named the best float of the parade.
Oklahoma City Community College's float won first place in the contest last year.
This year, OCCC's Capitol Hill Center students and members from H.O.P.E., the Hispanic club on campus, are using their creativity and resources to make their float one of a kind. "Our members have been working extremely hard in preparation for the parade," said Salvador Arcivar, H.O.P.E. president and business major at OCCC. "I'm excited to embrace my culture and get involved in the Hispanic community."
Jorge Hernandez, Tango Public Relations president invites faculty, staff and students from OCCC to come and enjoy a day of celebration.
"Expect a day to make new friends, to meet leaders and create relationships that will hopefully help open doors in the future," he said, "From experience, nothing helps a college student more than serving the community side by side with leaders who could be future employers."
College students also make up a great number of the volunteers, Brenda Hernandez said.
"We purposefully recruited college students to be volunteers because we wanted our little ones to be exposed to college students so they start thinking about higher education," she said, "A very significant part of the festival is to celebrate the positive influence the Hispanic community is having on our city and our state which is our students."  
Cervantes said students wishing to volunteer can still sign up by visiting the event's webpage.
Though admission to enter the event is free, food vendors will be selling authentic Hispanic dishes and flavors that can't be found at any other festival in town, Brenda Hernandez said.
"The American favorites like funnel cakes, chicken on a stick and more will also be available."
Consistent growth in participation and support from the community continues year after year, Cervantes said. She said that in 2015 about 12,000 people attended the event. For 2016, organizers have added a Lowrider cars in the parade, an artist market, and the first ever royal coronation of Fiestas de las Americas and local bands such as La Onda Kaliente, Orquesta D'Calle, and folkloric dancers will take the stage throughout the day.
"This event is not only for the south OKC community but for anyone wanting to immerse themselves in the Hispanic culture in OKC," she said.
Additionally, the OKC Energy Football Club will be in attendance with an interactive kids zone and businesses and community organizations will be on hand to talk about their services.
For more information about the event or to volunteer visit Calle Dos Cinco's webpage http://historiccapitolhill.com/fiestas-de-las-americas or call 405-632-0133.