Sooners Embracing Their New Head Coach
It's that time of year again: football season.
Last Saturday, the fifth-ranked University of Oklahoma defeated No. 2 Ohio State in one of the biggest games of the year. The final score was 31-16.
Going in, Oklahoma was viewed as the underdog.
Leaving the game, Oklahoma earned more respect from the country as they made a big statement for themselves for the playoffs and the Big 12 conference. It's been forty years since the last time Oklahoma was in Columbus, Ohio. That 1977 game featured one of the most memorable moments in college football history: "The Kick."
With six seconds left, all eyes were on the Sooners' Uwe von Schamann as he was getting ready to attempt a 41-yard field goal. The score was 28-26, Ohio State leading.
The play went into action and von Schamann made the game-winning kick, ending with a final score of 29-28. Forty years later, Oklahoma made another memorable performance on their field.
With Saturday's win, OU quarterback Baker Mayfield ran a victory lap with the Sooner flag in his hands down to center field. He waved it and planted it dead center on Ohio State's logo.
"It was embarrassing for them to sing their fight song on our field, and they probably feel the same way right now," he said.
Last year, after Ohio State beat the Sooners in Norman 45-24 the Buckeyes sang their fight song on OU's field.
Mayfield did apologize later. He said, "I did not mean for it to be disrespectful to any Ohio State people at all, especially not the team or the the players because they're a great team and a great program. It's just something I got caught up in, an emotional win. You know, yeah, it should've been something I did in the locker room so I apologize for doing it in the middle of the field."
Though only their second game of the season proved to be a strong win, new head coach Lincoln Riley doesn't want everyone to be in over their heads.
"We'll be disappointed if this is the highlight of our season. We still got a long ways to go but obviously a great win and one that's very special to us," Riley said.
Mayfield said he helped prepare his team going into the game when the country had their doubts for Oklahoma.
"Nobody picked us on game day, you see it on social media throughout the week. Eighty percent of the country voted for Ohio State to win, and so right now we believe in ourselves and quite frankly, that's all that matters," he said.
Mayfield also praised the Sooners'  offensive line. "Our guys played well. They rose up to the challenge and we executed. I'm very proud of those guys and it's a game we got to build on and keep moving forward. Knowing our capability, knowing the standard we set here is what this team is all about."
OU is now 2-0 for the season. They won their season opener on September 2 against the University of El Paso, 56-7.
Still, even with the season off to a positive mark, Norman locals are hopeful, but skeptical about Riley's first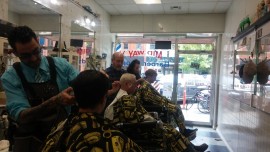 season as head coach.
Sean Rivera, master barber at Midway Barber Shop on Main Street says, "I think a lot of people have faith, but don't want to bet everything on him just yet.You know, the way he makes plays with his offensive line is different, it's unique. He makes moves that an offensive coordinator wouldn't normally make."
It's like letting your youngest kid drive momma's car," Rivera said. "They already know what to do and are familiar with it. But now it's their turn to take over."
Eric Welch, of The Pizza Shop on E. Constitution Street, said he is excited about this year's football season.
"We performed well that Saturday against UTEP," he said.
Welch said Riley has big shoes to fill. Long time Sooners fan Brad Spillers feels very confident about this season.
"Lincoln Riley is a boost of confidence that OU needed. He helps connect with players and I think having someone who's younger helps boost energy for the team," Spillers said. "He has a balanced mindset. They don't have an offensive coordinator right now, he's the one calling all the shots. He's gutsy, he's making moves that Stoops wouldn't make."
Spillers thinks Riley has the ability to go further than Stoops did in his first year. He said OU is going to "ride that wave" into the playoffs and is calling an undefeated season.
"This is our year," he said.
Despite the mixed reviews about Riley as head coach, at Bob Stoops' retirement press conference in June, OU President David Boren, Athletic Director Joe Castiglione, and Stoops had words of gratitude and assurance for Riley's new journey.
"When I think of Lincoln Riley and I observe him in action, I can only in many ways have memories of Bob Stoops at the same age, the same position in his career, and I see so many similarities," Boren said.
"So I'd make the same prediction that I made when Bob Stoops came here, that we're getting ready to start another era of greatness for the University of Oklahoma and we thank you Bob for making a decision in a time that allows that passing of the torch to occur."
When Stoops was asked what did Riley show in a short period of time that gave him the confidence to step away, he said that Riley demonstrated the characteristics of a great leader and successful head coach on a daily basis.
"He's a motivator, he's detailed, and incredibly bright putting together his game plans and schemes, and play calling and feel for the game," Stoops said. "Probably the biggest part that I've noticed from day one is his ability to relate to the players. Not just his offensive guys, but his defensive guys and does a real great job of communicating with them and relating with them."
Stoops said he didn't want to miss the right opportunity to be able to step away and hand this baton off to Riley.
Riley, fighting back tears, said he was honored to be picked as head coach.
"He (Stoops) gave me a chance a few years ago that I'll never forget and to be the guy to take over for him is an incredible honor," he said. "To our fan base. I promise I'll give you everything I have."
Riley said OU's football program was the best football program in the country.
"This is as good as it gets and because of so many people," he said. "I don't know that there's a football team, or even a sports team anywhere that represents their state so perfectly and so well and share so many great characteristics as this football team does with this state.Representing you is a great honor and one I take incredibly seriously."
In Stoops' eighteen-year career at OU, which is the longest career in college football history, Oklahoma has won the 2000 National Championship, 10 Big 12 championship titles, produced two Heisman trophy winners and seven finalists, and 79 NFL draft picks. Stoops has coached the team to eight or more wins for each of the past seventeen seasons, and has not lost back-to-back regular season games since his first year in 1999.
Many experts consider Stoops as one of the greatest coaches in Oklahoma history, with a record of 190 wins and 48 losses.
In Riley's two-year career at OU, Baker Mayfield and Dede Westbrook became Heisman trophy finalists, and Westbrook was Oklahoma's first recipient of the Biletnikoff Award. The award is given to the nation's most outstanding receiver. In 2016, OU's offense was second in the nation in total offense, and third for scoring offense.
Riley was also given the Broyles Award in his first year at OU in 2015, which is awarded to the nation's top assistant coach.
"This came together so quickly, but I feel prepared, I do," Riley said.