Sonic's peanut butter bacon shake worth a try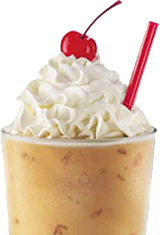 Frozen treats are a great way to beat the heat. That's why Sonic is offering more than 25 different flavors of shakes this summer. Among those is the peanut butter bacon shake.
After repeatedly seeing this shake on the menu, I jokingly told my best friend one day I would try it.
My worst fear soon became a reality as I found myself ordering the dreaded peanut butter bacon shake after intense peer pressure from my friend.
I was skeptical as they brought it out to my car and I gazed into a medium-sized cup filled with my shake and topped with whipped cream, garnished with crispy bacon. I begin contemplating whether I should have bought a safer flavor as a back up in case things went awry.
I stared at the shake for several minutes and even took a picture to document the fact this was actually happening. Finally, I willed myself to take a bite.
It was unlike anything I had ever tasted before. In the first few seconds that the shake came in contact with my tastebuds, all I tasted was a frosty peanut butter-flavored consistency. Then something else hit: the bacon. Mixed thoroughly throughout the shake, the bacon made every bite a crunchy experience. I was left with a bacon-y aftertaste with every swallow.
The verdict? It actually wasn't too bad. Despite the fact bacon and peanut butter is only a combination you would expect to find in some concoction at the fair, the ingredients surprisingly worked well together.
The bacon's extreme crunchiness counteracted the distinct flavor of the peanut butter without being overwhelming. Add in the ice cream and it is unlike anything else you will likely experience.
While the shake wasn't as bad as anticipated, it is unlikely I will order it again. It is not often I feel like going out on a limb and try new things. I'm surprised I did with this.
My advice: if you are watching calories, scared of trying new things, or have a phobia of bold flavors, this is not the shake for you. However, if you are an extreme bacon lover like 75 percent of the population seems to be, then I would recommend you try this shake.
Keep in mind, Sonic's shakes are half off all summer after 8 p.m.
Just make sure you don't order after 10:30 p.m. like I did or you will likely find yourselves greeted by less than happy employees who did not want to start up the stove again to cook bacon for my shake.
Rating: B