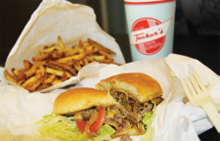 Casey R. Akard/Pioneer
Tucker's Onion Burger, located at 324 N.W. 23rd, offers simple menu items consisting primarily of burgers and fries or salad.
Only seven weeks ago, a new restaurant in Oklahoma City, Tucker's Onion Burgers, opened its doors at 324 N.W. 23rd.
Tucker's is owned by A Good Egg Dining Group that also owns Cheever's, Republic Gastropub, Red Primesteak and Iron Starr Urban Barbecue.
To say that Tucker's delivers the same uniqueness and customer satisfaction as the rest of their restaurants would be fallacious. For an onion burger, I would say Tucker's has hit a new level of mediocrity.
While I was there, I had the "Mother Tucker" burger, which consisted of a pound of beef, onion, lettuce and tomatoes. The juicy goodness had me scarfing the burger down like I was fresh out of prison, which is a good indication that something has tickled my taste buds.
The onions on the burger were piled high to heaven and the beef was cooked just right. I almost had no complaints. Almost. The same juiciness that made my tongue fall out and slap me in the face also made the bottom slice of my bun soggy half-way through my meal.
And by soggy, I mean soaking wet.
The buns they use are very non-industrial, and it was a nice switch from the standard sesame-seed buns that restaurant chains use. Come to find out they get their buns fresh from Prairie Thunder Baking Company right down the street.
Partnering up with local businesses? Oh, heck yeah. Local business providing fresh ingredients with no preservatives? I'm sold.
But the combination of the juicy burger and the fresh buns was literally a recipe for disaster. The only thing I want wet is the homemade lemonade they serve. In fact, I'll take seconds on that.
I also sampled their fries, and found the portion was more than plentiful. A serving size could easily be split between two people.
Other than a burger or fries, your only other menu option is a salad. A more extensive menu variety might have been more appealing, as the guest with me decided not to dine at Tucker's at all.
My meal was of moderate quality. Had my bun not had the soggy consistency of soup, I would be more inclined to dish out praise.
Would I regularly make the trip to Tucker's Onion Burgers? Probably not. But as a casual lunchtime spot if you are in the area? Sure, why not.
When it comes down to it, Tucker's Onion Burgers puts up a good fight. But they have a long way to go.
Rating: C
To contact Casey R. Akard, email onlinewriter@occc.edu.