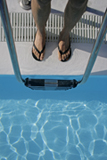 Dancing in a swimming pool is just as much fun as rocking on the dance floor and the swim-dancers unknowingly get an intense workout, said James Hensley, aquatics and safety training specialist.
Offered in the campus aquatic center, Aqua Zumba is a type of aerobic exercise that stems from the original Latin-style dancing form of Zumba.
Aqua Zumba, however, takes those principles and throws the dancers in the water, giving them a type of cardio experience that many probably haven't encountered before.
"It is one of those classes that everyone comes out looking like they had a great time," Hensley said.
The average person can use anywhere from 400 to 900 calories in a 45-minute Aqua Zumba class, according to Zumba.com.
Considering the average on either a treadmill or bike is around 350 calories, the Aqua Zumba class gives a whole new meaning to feeling the burn.
A typical class is an intense aerobics course in the pool, where students will use dance moves to burn those calories.
The act of doing it in the water gives much better resistance to work against, said Sandy Price, Zumba instructor.
But exercising in water is easier on the muscles and joints. This is making Aqua Zumba popular because you get an even more intense workout than regular Zumba, while dancing to the regular salsa type music, Price said.
For those who want entertainment as a component of their exercise, Aqua Zumba is a good option.
Students are getting a complete workout while having an immensely good time, Price said.
Classes are every Tuesday and Thursday from 11 to 11:45 a.m. every week until the end of the semester.
To sign up, visit the Aquatic Center and receive an aerobics punch card and wrist band to participate in an Aqua Zumba class.
The price for a three-day pass is $35 and a two-day workout pass is $25.
Students can get additional information at the Aquatic Center or in the Recreation and Fitness Department, or by calling 405-682-1611, ext. 7442.
To contact Mathew Wisson, email onlineeditor@occc.edu