Snow closing especially hurts short courses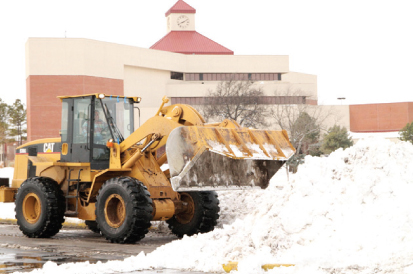 Icy roads and slick sidewalks did more than just shut down school and give students a second winter break.
With school having been closed a total of six days in two weeks, many students are now finding it hard to keep up with their studies — especially those taking shortened courses.
With these classes being in session for only eight weeks, attending class is vital.
Despite campus opening at 5 p.m. after the storms last Thursday, some still found they had problems getting to the school to attend evening classes and to make up tests and labs.
" I feel like I have to come because I'm close to being done with my class so I don't want to miss anything," said psychology major Kandy Ingram-Tottress.
"I work part-time weekends, and have three kids and a husband so coming to the Math Lab was a challenge."
Some students worry they aren't learning enough. Undecided major Jim Pearson said he feels he isn't getting his money's worth.
"We have missed so much class I am way behind," Pearson said. "The professor's response (is), learn it on your own because we have a schedule to keep."
"I have paid good money for an education; however, due to the snow I am not receiving it."
While students may feel like they are the only ones affected by the weather, Success in College and Life professor Tom Hedglen said he is working hard to make up the missed time.
"I have summarized lessons for the students as well as cut out some that I couldn't fit in," he said.
"Things happen in life and we just have to move along."
Physical Therapy Assistant major Liana Schoonover said she thinks students should be a little more understanding and flexible when it comes to rescheduling.
"My instructor has all the PowerPoints available online, has discussed the changes to the schedule, and gone over how we will be expected to complete the coursework," she said.
"We have to remember that it's not just the students who are put in a crunch by the weather, but also the instructors because it's their job to teach us in a more compressed time schedule.
"No matter how the weather has affected the school, students will just have to do the best they can to work around the issues Mother Nature has brought us."