Smash Brothers score big in intramural flag football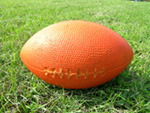 An offensive shootout between the Ballers and the Smash Brothers marked the intramural 8-on-8 flag football game on campus Sept. 30. The Smash Brothers came out on top 42-36, scoring the winning touchdown in the final 40 seconds of the game.
At first there was a little confusion on who would be on whose team because of a shortage of players on both sides. As a result, Eric Watson, Recreation and Sports specialist, allowed them to play 7-on-7.
The Smash Brothers started out the gate strong with the second play of the game being a beautiful deep connection between quarterback Victor Quezada and receiver Will Crome for the touchdown.
The Ballers tried to answer the Smash Brothers quick score with a long ball toward the end zone but it was picked off by Crome.
Smash Brothers capitalized on their opponent's mistake as Quezada and Crome hooked up for another touchdown as Crome added a celebration dance afterwards. Smash Brothers took a 14-0 lead after the 2-point conversion.
The Smash Brothers would cap off their dominance in the first half with two more touchdowns plus the two-point conversion to make the score 30-12 at the end of the first half.
The official shootout began in the second half. After scoring again to make it 36-12, the Smash Brothers would struggle for the rest of the half because of the Ballers' defense becoming more sophisticated.
"We played way too conservative and by that time, we were just ready to get the game over with," Quezada said.
The second half was owned by the Ballers who did whatever they had to do to get first downs, either by running or through the air.
The Ballers quickly set the tone with a "take whatever the defense gives you" attitude that created scoring opportunities. The Ballers quickly made a game out of it with the score knotted up at 36-36.
With the momentum completely shifted in the Ballers' favor, the Smash Brothers struggled to pick up any yardage.
This caused the Ballers to get the ball for one more chance at the lead.
Unfortunately for the Ballers, they could not convert on fourth down in the red zone which would be their final possession of the game.
With 40 seconds left on the clock, Quezada was cool as he drove his team down the field with situational running and strategically brilliant timeouts.
With less than 10 seconds left in the game, Quezada found Sean Roberts for the game-winning touchdown in the back of the end zone, in a play reminiscent of a highlight found on ESPN Sportcenter's Top 10 plays of the week.
The Ballers showed great effort in the second half but the Smash Brothers' playmaking ability down the stretch was the deciding factor.
To contact Brandon Rashad Willis,
email onlineeditor@occc.edu