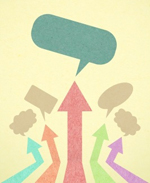 Image Courtesy of:
FreeDigitalPhotos.net
The fairly new, two-year Speech-Language Pathology Assistant or SLPA program being offered completely online is about to launch its second class this fall.
Beginning Aug. 20, the set-scheduled program is primarily designed for working adults. Requirements include completing 42 hours of speech-language coursework, including six hours of clinical experiences that are conducted over two separate semesters, and 19 hours of general college education courses.
Blending on-site clinical experience with predominantly online coursework, students work under the supervision and direction of SLPs, providing services to schools in healthcare settings.
Upon completion of an Associates in Applied Science, students will graduate ready to apply for a license from the Oklahoma Board of Examiners for Speech-Language Pathology and Audiology, as well as for a teacher certification from the Oklahoma State Department of Education as an SLPA.
The program seeks 25 to 30 new candidates every year, and only about 15 have currently applied. This is the reason the application deadline was extended a month longer.
The application, available online at www.occc.edu/admissions/health.html and at Recruitment and Admissions, is now due by noon July 13, at Recruitment and Admissions. Basic application requirements include a minimum GPA of 2.5 and a recent minimum score of 77 on the ACCUPLACER reading placement test.
SLPA student Mary Jones said the program really requires committed self-starters. Jones said she personally chose it because the field isn't saturated yet, so their demand as well as their pay is quite high.
"I can finish this degree in only two years and immediately go into the field with a beginning salary at or above a bachelor's degree beginning salary," she said.
Admissions Advisor David Orsburn said, right now, there are serious shortages of speech pathologist assistants in the state of Oklahoma as well as around the nation.
"So, they created this new program and way for people to get licensed," Orsburn said. "Obviously, there are over 500 school districts here, and we want this to be available to everyone," he said. "By making it online, we're making it accessible to those random schools in further and smaller towns."
For more information about the application, contact Orsburn at 405-682-7538, or email dorsburn@occc.edu.
For more information about the program, call 405-682-1611, ext. 7395, or email kathy.j.wheat@occc.edu.
To contact Nadia J. Enchassi, email communitywriter@occc.edu.
To contact Robert Bolton, email onlinewriter@occc.edu.