Sign up now for volleyball, soccer, football, frisbee and basketball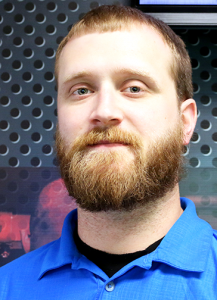 Football season is underway – even at OCCC.
Beginning Sept. 7, Oklahoma City Community College will offer intramural football, ultimate frisbee, volleyball, indoor soccer, flag football and open run basketball.
"The schedule includes ultimate frisbee, volleyball, indoor soccer, flag football, open run basketball, as well as ping pong and dodgeball tournaments," said Sports and Recreation Specialist Matthew Wright.
Wright said flag football will be the first of intramurals to start on Sept 7.
"Flag football is coming first and we do it on Wednesday nights," he said. "Depending on how many teams we get, games will be played on Wednesday nights at 5 p.m.Players will not need pads nor mouth guards unlike tackle football. Players are allowed to wear cleats if they choose to, but are asked to wear normal street clothes."
Wright noted that while there may be some incidental contact, deliberate and aggressive contact will be penalized.
Teams will play on fields that are different compared to a normal football field, he said
"Normally you'd play on a 80-yard field, but we don't have 80-yards to play on," Wright said. "I split the field up into three zones and each team is given four downs to get from each zone to the next."
On Oct 17, participants will compete in an ultimate frisbee league on Monday nights when the time comes to put up the pigskin.
"Sort of like flag football, teams must throw a frisbee from one teammate to another in order to travel across the field to score. If the frisbee hits the ground, it goes to the other team," Wright said.
In November, the gym will offer open run basketball, where a new basketball tournament will be held every Wednesday night. The gym will also hold volleyball and indoor soccer league competitions.
OCCC will hold its annual ping pong tournament on November 29, and a dodgeball tournament will take place on Oct 19. Both tournaments will be held in the school gym.
Students interested are asked to fill out a signup sheet in the gym and return it to the Recreation and Fitness office. Participants may register as a team or as an individual or free agent and will be assigned to a team said Wright.
For more information, contact Matthew Wright at matthew.j.wright@occc.edu