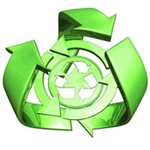 Implementing several "green" initiatives around campus in support of the OCCC Green Initiative task force is the goal of members of Students in Free Enterprise, said SIFE president Kody Payne. SIFE is an organization aimed primarily at business majors.
The projects SIFE is working on include recycling, water conservation, and energy conservation.
SIFE's interest in implementing green projects came from the encouragement of their faculty sponsors, Payne said. SIFE Vice President Manuela Nkwinkwa said the SIFE faculty sponsors, Professors Germain Pichop, Michael Machiorlatti and Charles Wayne Myrick, are very helpful in insuring the organization's success.
Payne said the organization sought to answer the question: "What is a need on campus that we can meet and how can we meet it?"
In response to student concerns that OCCC should be more environmentally friendly, Payne responded that "this is what we are trying to fix."
The organization as a team wrote a grant to SIFE nationals, which is called the SIFE Environment Sustainability Challenge, according to Nkwinkwa. The grant proposed a plan for implementing eco-friendly awareness on campus. "We submitted it, but have not received any money yet," Nkwinkwa said.
According to the SIFE Environment Sustainability Challenge grant, SIFE has undertaken this challenge not only to create awareness about recycling and its importance for the future of the planet, but also "to contribute to any existing recycling initiatives and start new ones where they may not exist," according to the grant.
During the 2009-2010 school year, SIFE started a recycling initiative in the college's business division.
It consisted of recycling paper and types 1 and 2 plastic. Other faculty and staff members have expanded the initiatives to their own departments, according to the challenge grant
SIFE also plans to partner with PepsiCo Foundation, the Oklahoma City Public Schools System and other community partners to promote recycling and energy and water conservation. PepsiCo Foundation, a partner of OCCC, is placing several plastic compacting machines around campus.
SIFE also is planning to work with area schools to promote these green projects and educate younger generations, Payne said.
Recently, SIFE took a field trip to Waste Management in Oklahoma City to learn about recycling different products like plastic, paper, glass and cardboard. Nkwinkwa said she didn't know a great deal about recycling before the trip. She said she learned that "if you don't recycle at home, they will not be able to recycle anything for you. You cannot assume that if you can put it all in the same bag they will do it for you."
Payne said OCCC sends paper from the recycle bins to Waste Management to be recycled.
"We supplied all offices with paper recycling bins to help with this," she said.
SIFE's next project is to create stickers to place on light switches encouraging students and faculty to conserve energy and turn lights off in empty rooms, Payne said.
They also are collecting used cellular phones to send to recycling companies. That will serve as a fundraising opportunity to continue to incorporate more green projects around campus, according to the Challenge grant pledge.
Typically SIFE works with small business owners as well as the community to help implement responsible and environmentally friendly business decisions, according to the project grant.
For further information on SIFE, please contact Payne at kody.payne@email.occc.edu or Manuela Nkwinkwa at ida.m.tchdume@email.occc.edu.