Service learning day gives students sense of pride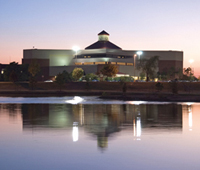 More than a dozen OKC-GO scholarship students took part in a service learning day at the YWCA women's shelter of Oklahoma City on Oct. 15. The students worked cleaning the playground, parking lots and surrounding areas on the grounds of the facility as part of Domestic Violence Awareness Week.
They worked for a better part of the afternoon using rakes, leaf blowers and their own hands to clean leaves that had settled in nooks and crannies around the playground.
Erin Walker of the YWCA, said the group of student volunteers cleaned twice as much as the company the YWCA usually pays to clean the grounds.
The students had a sense of pride and accomplishment after they left the grounds spic-and-span.
Ryan Moss, biology major, said he believes his work on the grounds of the shelter will "give victims a sense of pride to see a beautiful park instead of an institution."
Another student, history major Jose Escapa, said he believes their work will give comfort to the shelter's residents.
"It shows that the organization cares, because first impressions last forever," he said.
Nonprofit agencies can use all the help they can get, said Katie Treadwell, First Year and Student Life programs coordinator for OCCC.
Student volunteers are the perfect people for the job.
"Whether it is a big project or picking up trash and raking leaves, this is one more thing that the agency might not have been able to do on their own," Treadwell said.
The YWCA playground is dedicated to all the children affected by violence and the students' volunteer work is dedicated to those same children.
For more information about service learning work days and opportunities to help the community, stop by Student Life located on the first floor of the main building or visit www.occc.edu/StudentLife/ServiceDays.