Security receives reports of solicitors, stolen tools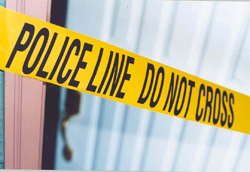 OCCC Security officers were kept busy the last two weeks handling everything from solicitors on campus to damage from the recent high winds.
At 5:37 p.m. April 19, Officer Brandon Wheeler responded to a report of a man soliciting in the plaza.
When approached, Martin Grey, 24, gave a church ID card to Wheeler and told the officer it was the only identification he had on him. Grey was escorted to the security office and Oklahoma City Police were called.
On arriving, the police told Wheeler they were unable to take any action other than to ask Grey to leave the campus.
Grey was informed that soliciting is not allowed on campus and he left of his own accord.
At 3:10 p.m. April 17, Officer Jeffrey Porter noted wind damage at the John Massey Center while on routine patrol.
The north side of the fence around the propane tanks and generator had blown down.
Porter contacted Sgt. Kevin Tipton to make sure the damage was to OCCC property. Tipton wasn't sure, but advised him to file a report anyway.
Review of the Massey Center's cameras did not reveal when the damage had occurred.
Pictures were taken, and a report was filed.
Finally, at 8:23 a.m. April 20 Officer Jacob Roby responded to a report of missing tools in the Aquatic Center.
Darren Cook, 41, a Facilities Management employee, reported tools were missing from his work area in the Chemical room there.
The tools, a multimeter, screwdriver bit set, and a screwdriver with bits attached, were last seen around April 4. Cook said he first noticed the tools missing April 19.
The missing tools are valued collectively at $501.
To report a crime on campus, call 405-682-1611, ext. 7691.