Search process for new president starts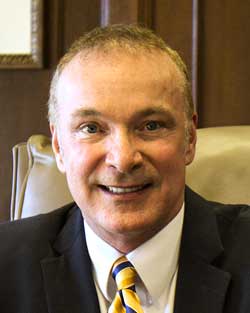 President Paul Sechrist will retire in July 2015.
After much discussion, the OCCC Board of Regents decided the search for the college's next president will start first within the walls of the college.
If a suitable candidate is not found there, the search will go nationwide.
Regents voted 6 to 1 to approve the process to be used in selecting the next OCCC president during a special session  Nov. 18, at Frontier State Bank in Oklahoma City.
The dissenting vote was cast by Regent Helen Camey.
Voting in favor of an internal search first were Regents Lenora Burdine, Christie Burgin, Teresa Moisant, Rick Moore, James White and Devery Youngblood.
Current President Paul Sechrist recently sent out a collegewide email announcing his plans to retire in July 2015.
Differing opinions were voiced among the regents prior to the vote.
Initially, Moisant said she favored a national search first.
"We might have to read through more résumés, but I think we're going to be able to tell the ones that don't have that culture or don't have that fit," she said. "But I want to think that we were inclusive."
Camey said she considered it important that the search extend beyond OCCC.
"We don't want to make it appear that we're just anointing someone internally," she said.
"Do they deserve an advantage in the process? They probably do, but we need to look like we're presenting and approaching this in a new level."
Camey said she recognizes that OCCC has traditionally followed the unspoken rule of hiring from the inside. She said she believes it's a legacy to build upon.
OCCC's last three presidents have been chosen internally, meaning they had been employees before their presidential appointments.
When Sechrist was appointed as president in December 2005, he had been acting as president for almost two years due to health problems of the previous president, Dr. Robert P. Todd.
Camey said seeing Sechrist perform in the job allowed the regents to see that he would be the right choice; therefore, no other candidate was interviewed for the position.
Youngblood said the decision to hire from inside OCCC should be carefully considered.
"By doing this, that means anybody — a dean, anybody else who thinks they're ready — can interview. By all means, come forward.
"I would even go so far as to say we ought to interview every one of them," Youngblood said. "I really think that strongly about our own people."
Former Regent John Michael Williams was a special adviser at the meeting. Williams is an attorney and president at Williams Box Forshee & Bullard PC.
He said he went through three presidential searches while serving on the OCCC Board of Regents. Based upon his experience, he suggested the regents search internally first.
"If you like the direction Oklahoma City Community College is going, it's not just the current president, it's not just Paul (Sechrist) — it's a team," he said. "There are other people that have been a part of this.
"The other people, they're already on this train where you're already going … . You will know so much more about those people than you'll know about anyone else … ."
However, Williams said, he recognizes that OCCC has experienced a great deal of growth since he was on the board and going with an outside hire may be the best option.
"You may not have the option that you had the last 24 years to have somebody from within," he said.
"But if you do, there are certain benefits."
Williams said the process of hiring a president can be handled several different ways. He said his personal experiences have shown the candidates need exposure to the faculty and student body.
He said with the help of a professional, third-party consultant, the applicants should be put through a rigorous process, whether they are currently employed by OCCC or from across the country.
"I'd start with listening sessions and then we can get finalists.
"And I'd do it again with [the finalists]. I'm not talking about 20 minutes, either. I'm talking about multiple sessions that … people can ask anything they want … ."
The regents listed character attributes they're seeking in the next president: being open to others' thinking; being able to process input and move forward with calculated risk; having a proven track record; being able to build partnerships at the state and national level; capable of building a team; having good communication skills; able to look outside themselves; being strong, calm and collected; being able to provide a seamless transition; and being committed to serving central Oklahoma and the surrounding area.
Two major factors that were emphasized were student access and understanding the culture of OCCC.
Williams said the culture differs from any other college or university in the state.
"Oklahoma City Community College's culture is unique. It's not the same as OSU's culture. It's not the same as … Rose State. It will take someone time to understand [that]."
Facilitator Frank Merrick, who has facilitated previous Board of Regents retreats, said the college is one of the most vital educational institutions in the state, providing many students a stepping stone to the future.
"I do not believe there is a more important educational institution in Central Oklahoma, even more so than Oklahoma City Public Schools," he said.
"I think you can help where that institution has maybe failed students. You give them a chance."
Merrick said the decision of choosing a new president provides a set of challenges for the regents. He said the position of OCCC president is a prestigious and honored one.
"This is the single biggest decision these regents have made in 10 years," he said.
"This is going to take Oklahoma City Community College to that next level … .
"To that first-generation college student, to that person coming out of generational poverty, to that person who the public schools have failed — you're their last best chance to a meaningful career."
Sechrist said he will not take part in the search for his successor, but said OCCC is in good hands.
"The Board of Regents has the responsibility to decide the process they will use to select the next president," he said.
"Generally, the current president does not play any formal role in the process. I know it will be the intention of the Board of Regents to keep the campus community informed as they work their way through the process."
In an email dated Nov. 20, Moisant said the meeting officially set the search in motion.
"The Board of Regents, with the assistance of an external search firm, will first conduct an internal search for the position of president.
"Following the internal search, the search  process may be extended to include external applicants.
"Further, as chair, I will appoint a three-member Board Committee to solicit proposals and recommend the search firm to be selected by the full Board of Regents.
"I anticipate providing additional details about the search once the search firm has been identified and begins working with the Board of Regents."
The next Regents meeting is at 8:30 a.m. Monday, Dec. 15, in the Al Snipes Board Room on campus.
For more information, visit www.occc.edu/aboutus/boardofregents.