Sci-fi flick 'Looper' gets perfect score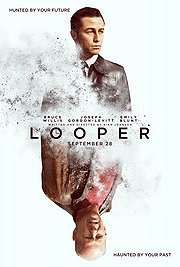 If there is one phrase to accurately describe director Rian Johnson's new action-packed, futuristically based film "Looper," that phrase is mind-blowing.
The movie is so good that not only did I see it the very day it was released in theaters, I saw it for a second time only three days later.
When I first discovered the movie I was somewhat nervous about how it would be executed. However, I was highly impressed by how well it turned out.
The plot examines using time travel invented in the future, which has been outlawed, in order to allow hitmen to eliminate their targets in exchange for highly valuable silver. But when the main character is faced with eliminating his future self, everything turns chaotic.
The stars of the movie, Bruce Willis and Joseph Gordon-Levitt, put on some of their best performances in the movie.
Willis and Gordon-Levitt play the same character — Willis as the future Joe and Gordon-Levitt as young Joe.
Gordon-Levitt's appearance was manipulated in order to resemble Willis, and it was done so in a very accurate way. In some scenes of the movie, it is almost freaky to see how much the two looked alike. This was not only done through makeup, but Gordon- Levitt's talent to impersonate Willis's facial expressions and personality.
While the older actors did incredibly well with their performances, the breakthrough performance of the movie was hands down Pierce Gagnon's performance as Cid. The actor appears to be around the age of 6, but he puts on the acting performance of a pro. His ability to cry on command and express sheer anger in certain scenes is jaw-dropping. It's hard to take such a youngster seriously, but in all honesty, this kid's got some serious talent. I definitely hope to see him in more roles.
This movie ranks high on my list of great action/ sci-fi movies, and can almost be considered a modern day "Matrix."
I recommend this movie to anyone who likes lots of action, a great storyline and great acting. Careful, though: If you don't handle goriness very well or scare easily, you will want to watch with extreme caution.
Rating: A+
—Paris Burris
Online Editor
To contact Paris Burris email onlineeditor@occc.edu.