Rowers come in third at festival
Recently, one of OCCC's rowing teams took third place during the Sandridge Energy Stars and Stripes River Festival.
OCCC's dragon boat and traditional rowing teams both competed in the festival on June 27 at the Oklahoma City Boathouse District on the Oklahoma River.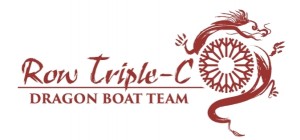 English professor Markus Zindelo rows for both teams. He said this is his third season on the dragon boat team and his first season on the rowing team.
"Both rowing teams — the only community college ones in Oklahoma — did fantastically in the regatta," he said.
Zindelo said the dragon boat team placed second in the first heat, racing 200 meters in 1.01 minutes. In the finals, the dragon boaters came in third among 16, less than two seconds behind the first place team.
Row Triple C rowers came in first in under two minutes in the first heat, he said. Advancing to the finals, the OCCC rowing team came in third among eight "landlubber" level teams.
Zindelo said he is proud of all the teams.
"Many on the dragon boat team were brand new to the sport, but, as a team, they rowed 18 seconds faster than the Row Triple C teams did last year," he said.
This was the traditional rowing teams' first season, Zindelo said.
"Due to weather conditions, they only had the chance to practice on the river nine times," he said.
Zindelo said he is appreciative to the college for forming the teams and supporting them.
"I know this event was transformative in the lives of the students who participated, and it was amazing to take part in," he said.
Stephen Morrow, Faculty Liaison for Student Engagement, is a member of the dragon boat team. Morrow said both teams are made up of faculty, staff, and students. He said there were two things that made the preparation process difficult.
" … Building up the stamina," he said. "Very close to that is learning to be in unison."
He said his team practiced once a week for two hours to prepare for the competition.
Morrow said winning was not the main goal.
"It's nice to do well, but the whole point is to represent the college and to build … team camaraderie with faculty, staff, and students."
For more information, visit www.occc.edu/dragon/.