Row Triple-C prepares to compete at festival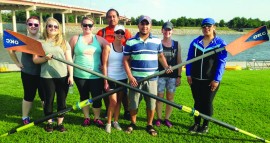 It's that time again, to bring out the red, white and blue as the Stars and Stripes Festival returns to Riversport Adventures at the Boathouse District in Oklahoma City.
The festival will be an all-day event and many competitions will be held including, white water rafting, kayaking, dragon boating, and the regatta.
The OCCC traditional rowing teams will compete in the regatta on June 25.
In preparation, the rowers had their time trial on Friday, June 10.
Team member, Phillip Bueno spoke about what the trials were for, explaining that all the teams got together to have practice races in order to decide who gets the best lane.
"Basically, they're for placement" he said.
"The team that finishes first gets the best lane and the team that finishes last gets the worst lane." explained Bueno.
Bueno went on to explain that the best possible lane is the third lane, usually because it has the best current flow.
However, finishing with a 2.16, seven seconds slower than last year's team, this year's team will have their work cut out for them after finishing towards the bottom of the standings.
Coach Jehlan Beaver, described his team's performance at the trial.
They had a fast start, but once they hit midway around the 250 mark, it was like the bottom fell out and they slowed down, Beaver said.
The rowers however are not discouraged, according team member Erin Peden.
 "We had a rocky start at the beginning of the season due to new members learning the techniques as well as missing practice because of the weather, but I felt we pulled it together and had a smooth performance at the time trial." Peden said.
The OCCC rowers will be competing in the 500 meter novice class races at the regatta, in which they will put their focus on winning one of the four possible heats for a chance to qualify for the fifth heat where a championship looms in the balance. The first place winners of the previous four heats will only qualify for the fifth however.
The winners will receive a first, second, and third place trophy and medal and have the opportunity to throw either their coach or coxwain (steerer/navigator) overboard.
Despite a rocky start, the rowing team has their sights on a championship and OCCC students are welcome to come support them.
The Festival will have food, music and family activities, admission is free and parking is $10.