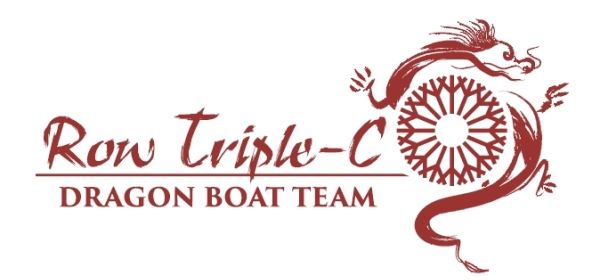 Lyndsie Stremlow has recently taken on an endeavor that, she said, gives her something wonderful to look forward to each week — paddling on the Oklahoma River.
The English and Humanities Division Secretary has joined Row Triple-C, the college's riversport organization made up of two competitive dragon boat racing teams.
"This is really special," Stremlow said. "And getting to be out on the water is really awesome."
Stremlow said she has never participated in any of OCCC's athletic opportunities and had never considered dragon boating before.
"I've never done anything like [paddling] … but this is way fun," she said.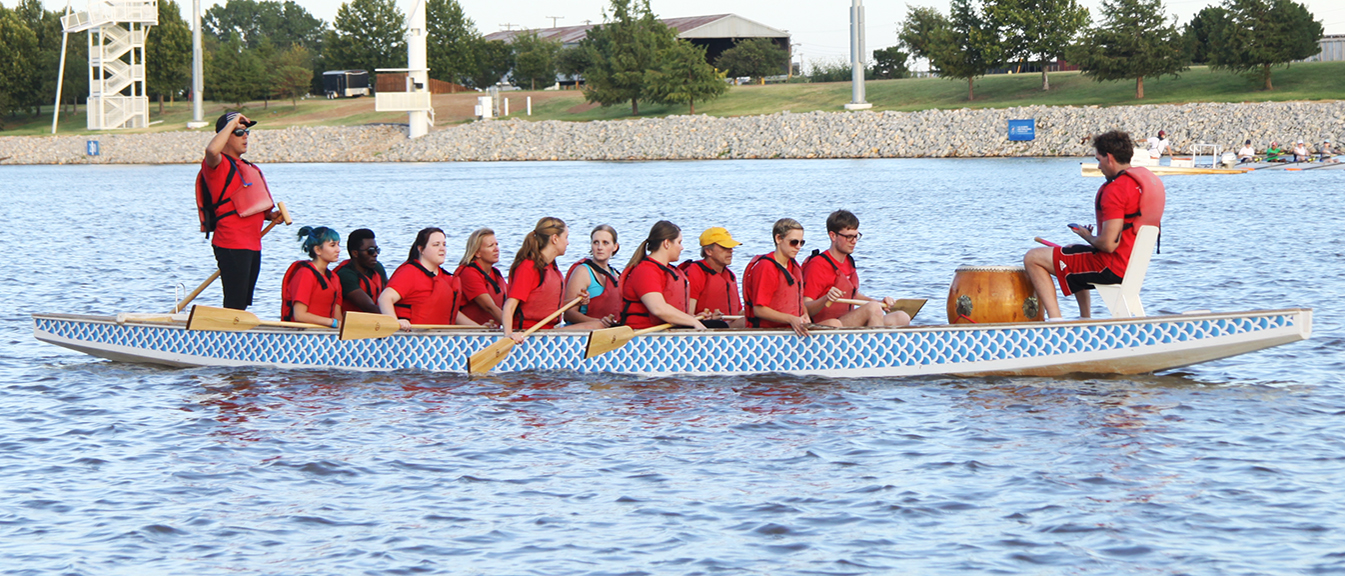 OCCC first became involved in the sport last spring, said Web Development and Social Media Supervisor John Richardson, who has participated both years.
This year, when it came time to form a team, the response was so overwhelming , Richardson said, that OCCC decided to form two teams.
"We were thrilled with the response," Richardson said. " … Since we have two teams now we want at least twice as many supporters."
Both dragon boat teams are affectionately named after well-known dragons, he said. One is known as Abraxas, named for the famous dragon of Persian lore, while the other team is known as Falkor, named for the lovable Luck Dragon featured in "The Neverending Story."
Richardson said the teams consist of 11 athletes per boat; 10 rowers and a drummer. The teams also share a coach who stands at the back of the boat and steers during competition. Coaches are provided by the dragon boat league and the boathouse district, he said.
OCCC business major and student worker Summer Cole, said she enjoys being part of the team. She paddles for Team Falkor.
"I love it," she said. "It's a really positive environment."
Cole said her teammates and Row Triple-C's coach inspire each other to bring out the best in themselves. It's competitive but it's not aggressive, she said.
Cole said there's a positive side to keeping things light-hearted.
"I look forward to improving my technique," she said. "But mostly I look forward to the social interaction. We laugh and we joke around a lot."
Richardson said, at the end of June, OCCC's first-ever dragon boat racing team competed in the Stars and Stripes River Festival of OKC, where they came in 9th place out of 19 teams.
Now, he said, Row Triple-C is gearing up for a new season.
He said both teams will represent OCCC at the season's first regatta in October. He said he hopes to see a huge turnout for this year's competition. It will be Thursday night, Oct. 2, at the Boathouse District located on the Oklahoma River, just south of downtown Oklahoma City and the Bricktown Entertainment District.
Free parking is available in designated areas adjacent to the boathouses and Riversport Adventures according to http://boathousedistrict.org.
Student Life Director Erin Logan paddles for Team Abraxas. She said it would be great to have a big crowd there in October representing OCCC.
"We would love to see people come out at the regatta and cheer us on," Logan said.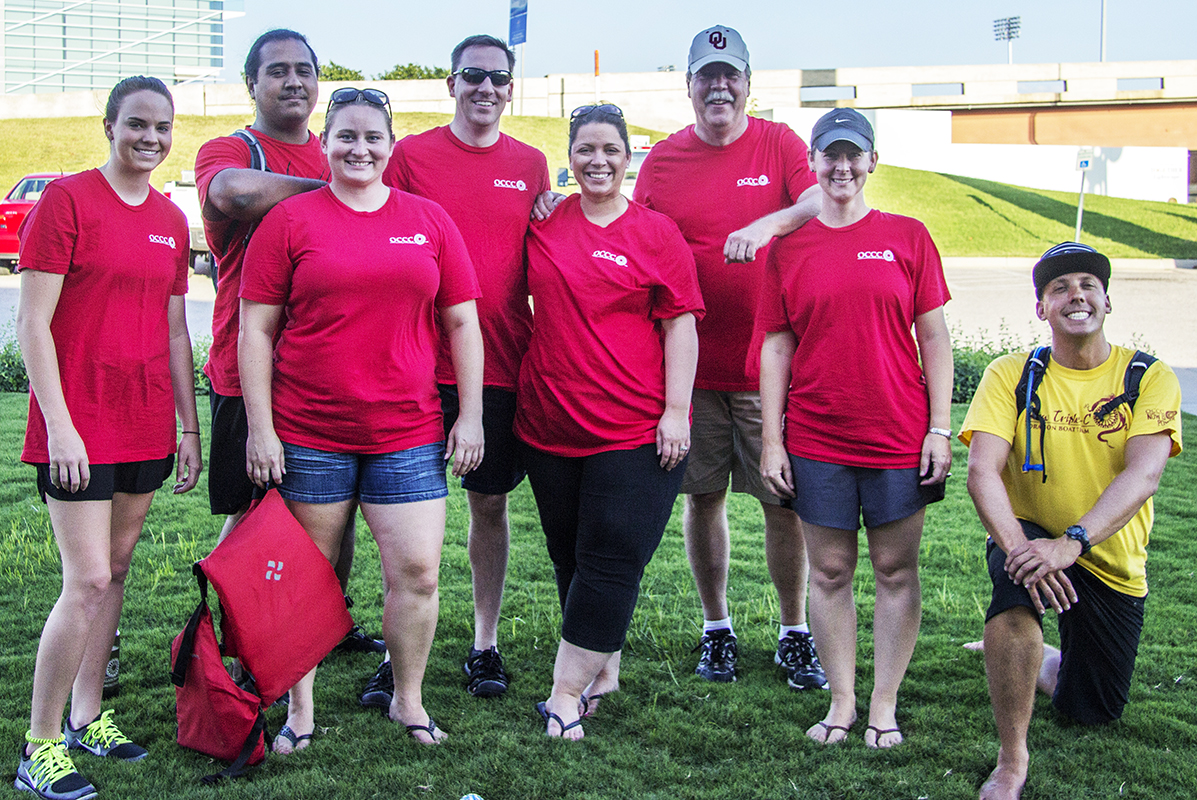 Richardson said Abraxas and Falkor have already begun their regular practice on the Oklahoma River in preparation for October's regatta.
"Practice lasts 90 minutes," he said. "Now it's challenging because it's so hot outside even in the evening."
Practice is from 6:30 p.m. to 8 p.m. on Mondays and Thursdays, Richardson said.
"We start [by] doing some calisthenics. Then we'll get into the boat and do drills, many of which aren't timed," he said.
"The last thing we do are timed sprints, either 100-meter or 200-meter. "Sometimes we just go all out for three or four minutes."
Stremlow said she doesn't mind the workouts.
"It's really hard … ," she said, "but it's so fun I don't even notice it."
Richardson said he is pleased with "just (being) there to compete and have some fun. The experience leading up to the regatta is what its all about," he said.
And it seems the fun never ends.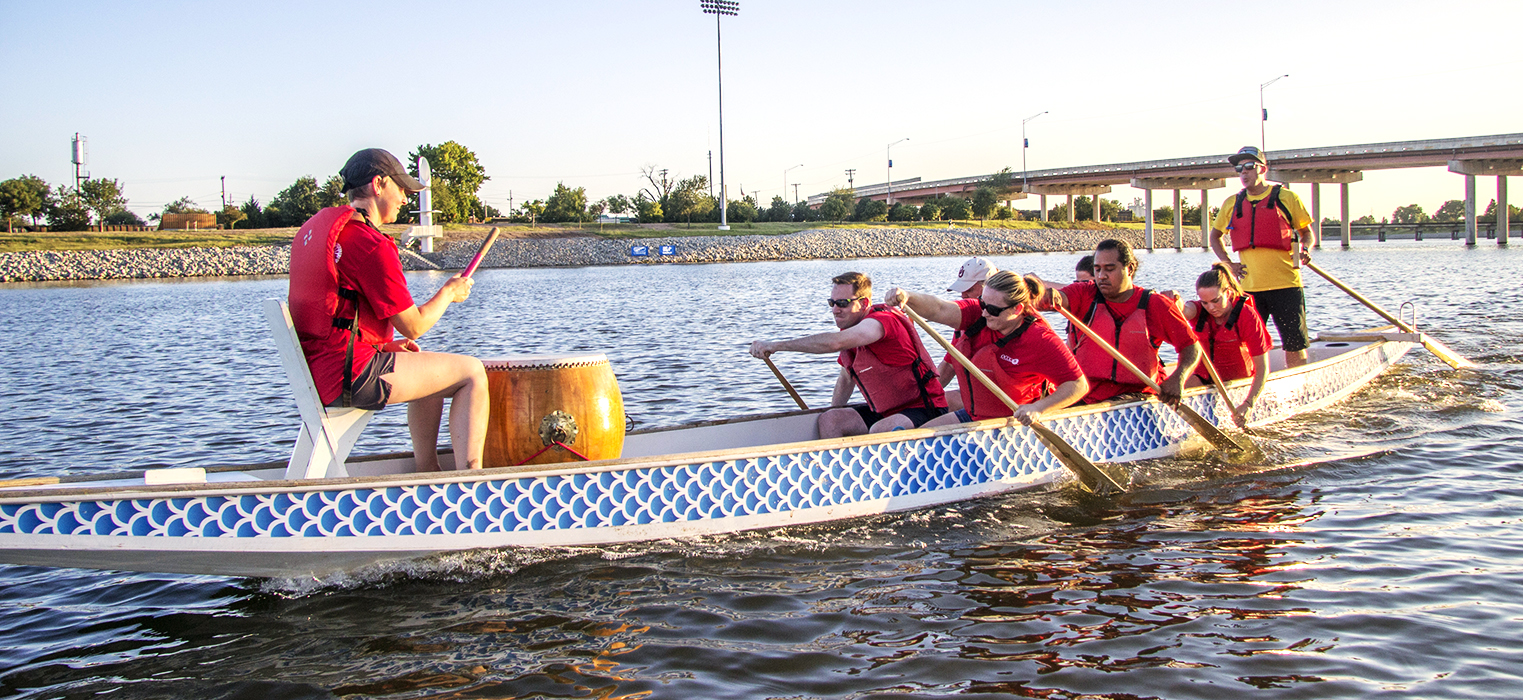 There is no winter season for dragon boaters, Richardson said. The culmination of all the teams' effort is tested only once at the end of the fall season with October's regatta and once again in June.
Because of its popularity, Richardson said, Row Triple-C is already looking to expand.
"We do have hopes … to add a rowing team for the spring season," he said. "We don't know if we'll have two dragon boat teams and a rowing team or one dragon boat team and a rowing team but we're pretty committed to having two teams at this point."
The expansion is just a matter of funding now, he said.
For more information about Row Triple-C, visit the website at www.occc.edu/dragon. For more information about forming or joining a dragon boat team, visit http://boathousedistrict.org.