Rosetta Stone software now free online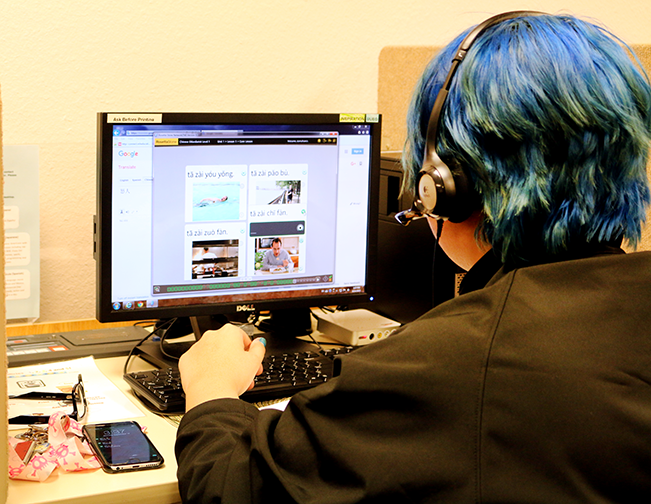 For the first time, students, faculty and staff are able to study and practice foreign languages with Rosetta Stone software off-campus for free.
Recently, OCCC spent $9,750 to provide a version of Rosetta Stone that's accessible online.
"[The new upgrade] is amazing because students now can access the program from home," said World Languages and Cultures Center Coordinator Chiaki Troutman, "Before, they couldn't, now they can access whenever they want as long as they have the Internet."
Rosetta Stone is the language learning software that helps students attain basic knowledge of other languages.
The program is offered for 25 languages including: Arabic, Chinese, Dutch, English (U.S.), English (British), Farsi, French, German, Greek, Hebrew, Hindi, Irish, Italian, Japanese, Korean, Latin, Polish, Portuguese (Brazilian), Russian, Spanish (Spain), Spanish (L.A.), Swedish, Tagalog, Turkish and Vietnamese.
Troutman said one of the lab's main tasks this semester is instructing students in using Rosetta Stone online.
She said the number of students coming to the lab might decrease this semester due to the new method. However, she thinks the lab's main mission is promoting language learning to the largest number of students, so the number of students physically attending the lab is of little consequence.
Creative Writing major Parker Burgess said he is using Rosetta Stone to learn Japanese.
"I do like it. Even if there are some little flaws …, but other than that, it teaches you some of the good basics," Burgess said.
He said he might also try the new online version, but he still wants to come to the lab.
"There is something about being in a school setting," Burgess said. "It helps you focus on studying."
Troutman said she's there to help students in the lab and online.
"Studying and learning another language is a plan for many students, so as long as we help them get results we will try our best," Troutman said.
She said many students consider the lab a place more suitable for foreign language homework and studies. Other groups of students come to the lab for help, she said.
"Many students ask us for assistance to set up accounts because not everyone is genius in using computer," Troutman said.
She said she also instructs people who are studying other language learning programs aside from Rosetta Stone, like the Mango program.
"As long as it is about studying language, we always try to be responsible and helpful. It does not matter what kind of language program students are using."
To get access to Rosetta Stone online, go to the OCCC website, choose "World Languages and Cultures Center" under the "Lab and Center" tab, then click "Rosetta Stone Online Access". From there, students can see clear instructions for the log-in process, Troutman said.
She said students may be required to use their OCCC account to log-in.
Students can come to the World Languages and Cultures Center, located on the second floor of main building for more assistance.