'Rocky Horror' cast prepares for March shows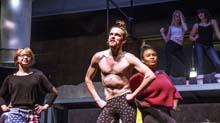 Goofy, entertaining, and thought-provoking. These are some adjectives assigned to "The Rocky Horror Show," which will be performed on campus for two consecutive weeks in early March.
Others have described the production as an experience packed full of unadulterated enjoyment and madness.
OCCC's theater and music departments have joined ranks to present their adaptation of the widely famous cult classic by Richard O'Brien.
"The Rocky Horror Show" is a humorous musical that is a tribute to science fiction and horror B movies of the late 1940s through the early 1970s,
It tells the story of a recently engaged couple who get caught in a rainstorm after their car breaks down. They find themselves in need of assistance and enter the home of the mad transvestite scientist Dr. Frank N. Furter.
About six years ago, OCCC staged "The Rocky Horror Show" to sell-out audiences, theater Professor Brent Noel said. Some people came in costume, brought props and interacted with the cast members.
Noel is the producer of this adaptation. He said he is confident people will enjoy the show this time around.
"[The cast is] a good mix of students and people from outside of OCCC," Noel said.
Director Jon Haque is experienced in this field. He is the business director at Oklahoma City Repertory Theatre Company and has received Emmy Awards for his work, according to the City Rep website. He has worked with OCCC before on various projects.
Theater arts major Daraja Rae Stewart, 18, is playing the role of Janet, the heroine of "The Rocky Horror Show." This is only Stewart's second play, she said, her first being "Little Murders" last semester.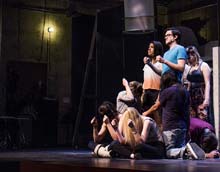 After almost six weeks of rehearsal, Stewart said, she is still somewhat nervous about the upcoming performance.
She said her hardest struggle is opening herself up to others and making herself vulnerable.  However, she said, she has bonded with the cast and has become comfortable.
Stewart praised Haque's role as director.
"He is fabulous and amazing," she said. "He makes all of the cast members feel important."
Stewart said the most interesting moment was when Haque had the cast strip down to their bathing suits in order to bond with one another.
She described the production as "very colorful and huge."
Like Noel, Stewart believes that people will "absolutely love the show."
Stewart will play opposite Larz Hoban, a community member who portrays the central character, Dr. Frank N. Furter. Janet's fiancé Brad is played by Dillon Griffitts, an OCCC student.
While it is true that "The Rocky Horror Show" is a fun musical, it also deals with deeper topics, such as human sexuality, tolerance, normality and other adult themes, Noel said.
The show is recommended for mature audiences only.
The play will be staged at 7:30 p.m. Thursday, March 5, and again on Saturday, March 7. A special midnight performance is scheduled for Friday, March 6.
The show will run at 7:30 p.m. the following Wednesday through Friday, March 11, 12 and 13.
All performances will be held in the Bruce Owen Theater in the Arts and Humanities building.
Tickets are $5 for students and $15 for the general public.
Tickets can be bought online, in person at the OCCC box office located inside the Visual and Performing Arts Center Atrium, or at the door, based on availability.
For more information, email Noel at bnoel@occc.edu or Stewart at daraja.stewart@my.occc.edu.
To contact Harrison Langston, email onlineeditor@occc.edu