Rob Zombie worth 6-hour country drive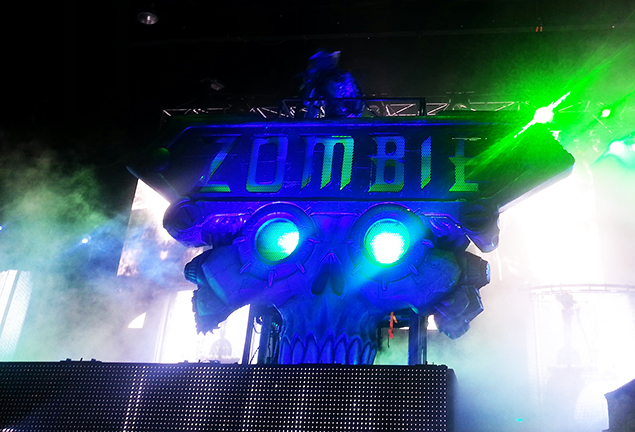 The bonafide Hollywood Devil-man Rob Zombie made a stop at the Cricket Wireless Amphitheater in Bonner Springs, Kan., Aug. 5, after wrapping Mayhem Festival in Texas the night before.
After missing the Twins of Evil tour where Zombie and Marilyn Manson co-headlined, I made a promise to myself I wouldn't miss another opportunity to see him.
I kept that promise by taking two days off to drive to the show. I have to say Zombie was worth every boring minute of that 6-hour country drive.
However, I wasn't too impressed with the lineup.
I couldn't really get into Children of Bodom. They were just not my cup of tea. I barely made it through Amon Amarth due to the fact I couldn't understand a word they were saying. Machine Head wasn't too bad actually, and got quite a bit of head banging from me.
Then it was time for Zombie to make his gloriously evil appearance opening his set with "Teenage Nosferatu Pussy" from high up on his Zombie pedestal.
The show amazed me. Every song brought a whole new stage setup.
From the creepy mechanical devil robot dancing across the stage to a larger-than-life old-school boombox radio Zombie stood on during "Dead City Radio," he never ceased to amaze me.
I was completely blown away by his stage presence and the showmanship of the band. Piggy D and John 5 played off of the energy of the crowd. Their performance was solid and tight, and went above and beyond to get audience participation which made for one hell of a time.
Rob Zombie demanded the crowd's attention every step of the way. The production value was astronamical. I think it's so quiet in here because my ears are still recovering from the concert. The devil horns were high in the sky that night. I doubt that Kansas has ever been rocked like that before.
Rating: A-