Retro looking jackets are back in this Fall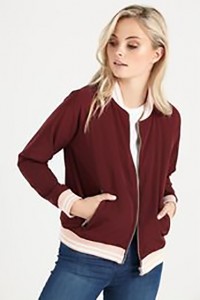 Fall is right around the corner with cool weather, pumpkin spice everything, and the fashion trend of wearing layer upon layer of clothing.
Finding the perfect jacket to roll into winter with can be difficult, but never fear – Cotton On is here to save the day with its trendy, affordable clothes.
I've seen YouTuber's, fashion blogs, and magazines raving about the bomber jacket this year.
Sure enough, I had to have one of my own.
Bomber jackets have roots dating back to the 1930s, and they are making their way back into the fashion world now.
Appearing in Kanye West's Yeezy Fall 2015 fashion show, bomber jackets began to thrive again last year.
Celebrities and fashion gurus all over support the bomber movement.
So, according to the fall trend report, bomber jackets are in and Cotton On has a quality low cost bomber jacket.
Cotton On's Retro Sport Bomber jacket is a great buy for just $39.95.
The jacket looks like Kylie Jenner's and Selena Gomez's at a fraction of the cost.
The fabric is a soft polyester with wonderful cotton varsity stripe and detailing that gives the feel of a high school letterman's jacket combined with a side of chic.
The bomber jacket can be paired well with anything from a t-shirt and jeans, a skater skirt and a crop top or a T-shirt dress with a pair of Chelsea Boots.
There is no doubt that this layering piece is going to be worn several times this fall.
Though Cotton On's particular jacket is versatile and fits well to the body, it's not without its minor drawbacks.
For example, the product is not offered in all sizes.
Also, for those of us who have long arms, the sleeves will be a bit on the short side. This is okay, because the sleeves can be scrunched up to give the jacket a little more character.
In spite of those two minor detractions, this bomber jacket is still a great buy for a quality price.
Be the bomb with your bomber jacket for the fall and winter.