Respiratory Care information session to answer questions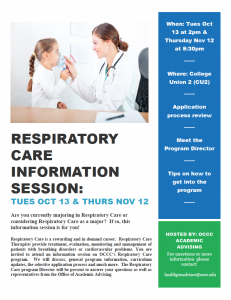 Nearly 80 students at OCCC are listed as Respiratory Care Therapist majors but are not enrolled to take courses which pertain to their major, said Respiratory Care Coordinator Betty Fisher. 
Students who are interested in the program but don't know where to start can attend an information session at 2 p.m. Tuesday, Oct. 13 in CU2. She said the program director will be there to answer questions and students can find out how the application process works.
The Respiratory Care Therapist program is the product of the partnership between Francis Tuttle and OCCC, she said. The course consists of 38 credits from OCCC and 30 credits from Francis Tuttle.
"Maybe they don't know what to expect when they get to Francis Tuttle. Maybe they don't know how much it's going to cost. Little things like that would make their decision easier," Fisher said.
There are prerequisite courses that must be taken before applying to the program, including Introduction to Respiratory Care, and Cardiopulmonary Anatomy and Physiology, which focuses on the anatomy of the lungs, Fisher said.
Students gain an associate degree and if they are successful in the program they can take the national exam to become a Certified Respiratory Therapist (CRT). Fisher said CRTs can find employment at home care companies, oxygen companies and hospitals.
Fisher said though it's a relatively new program, CRTs are a vital part of healthcare and they can easily find employment at larger hospitals.
"It's very new compared to nursing or some of the other health fields," Fisher said.
"We were just being called oxygen orderlies and now we're responding to trauma calls and codes. We're intubating patients, putting airways in place, so we're an important part of the healthcare team."
The next session will be at 5:30 p.m, Thursday, Nov. 12. in CU2. For more information, contact a health professions advisor at healthproadvisor@occc.edu.