REO delivers old hits with style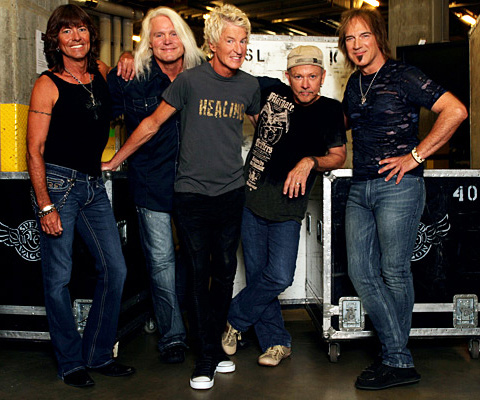 REO Speedwagon rocked the stage Saturday, Oct. 20, at the Firelake Grand Casino in Shawnee.
The band entered the stage a little after 7 p.m. and began their show with "Don't Let Him Go."
Lead singer Kevin Cronin got the crowd going with his high energy and guitar playing. Hit song "Take It On the Run" followed and Cronin got the audience even more pumped by getting them to sing the chorus.
The band then pumped up the tempo with upbeat songs such as "Golden Country" which Cronin said some considered a song of rebellion in the '70s. Cronin said he considered the song to simply be a song of patriotism. "It's easy to love your country during the good times but true patriotism comes when you love your country through the hard times as well," he said.
Other highlights of the concert were when Cronin slowed things down with an acoustic performance of "Keep the Fire Burning" a song from a previous album he had re-written.
"This is how it should have sounded on the album," Cronin said.
Perhaps the best part of the concert was when Cronin recounted their May visit to the Zoo Amphitheater in Oklahoma City where they performed with Styx and Ted Nugent. Cronin told the audience: "I usually agree with everything Ted says but how dare he get up in front of a bunch of REO fans and claim he wrote the greatest love song of all time. Friends, when you go home tonight with that special someone and are trying to set the mood, are you going to be playing 'Cat Scratch Fever?' I don't think so." He then followed this statement with what he said he considers to be the greatest love song, "I Can't Fight This Feeling."
The concert ended with hit song "Keep On Loving You" which Cronin played the piano to, then "Riding the Storm Out" followed as the encore song which got the whole crowd dancing.
Even though the band played only their old songs, the energy of the band and the crowd made for a fun party atmosphere.
The thing I enjoyed most was watching Cronin literally change guitars after every song and then throw his guitar picks out into the audience. I also was impressed at the level of energy they gave out and the interaction with the audience.
Overall, it was a fun experience for my first 21-and-up concert. I would definitely go see them again.
Rating: A
—Erin Peden
Staff Writer
To contact Erin Peden, email staffwriter1@occc.edu.